Excerpts from Saddam Hussein's Memoirs – Part 1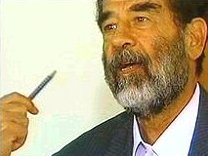 I once met a man on the road to Fallujah.

He said to me "Master Saddam, I have been travelling for days trying to reach my family. But alas I got lost, and ran out of food and water. Would you be able to help alleviate my hunger and thirst?"

So I shot him. He was never hungry or thirsty again.