Excerpts from Saddam Hussein's Memoirs – Part 3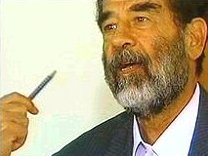 One of my wives once asked me for a new dishwasher, so I bought one for her. At first, the dishwasher worked well, and all of our dishes were shining like the Baghdad sun.

But after a while, I noticed specs of dirt remaining on them. I then knew it was time for a new dishwasher. So I bought a new dishwasher, and disposed of the old one.

I think it only took one bullet to the head actually.