Shimon Hearts Sharon (No, Not That One)
At the Tel Aviv Press Conference, Shimon Peres gazed longingly at Hollywood actress Sharon Stone, invited to Israel as a guest of the Peres Center for Picking Up Beautiful Hollywood Actresses Peace.
Sharon Stone: "I had a dream that I would arrive in this country."
Shimon Peres: And I have a dream right now – ooooh behave, Shimon!
Later on in the day..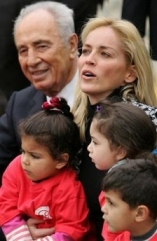 Shimon Peres: "Your'e a natural with kids. Fancy some of your own?"
Sharon Stone: "Even if I did, I think the biological clock may have other ideas."
Shimon Peres: "Don't underestimate my container of blue pills."
Update:
You can read more about Sharon Stone's trip to Israel here:
Jerusalem Post
Ynet
(includes video)
Actually, if you watch the video footage, Stone comes across as very articulate and spunky. And she clearly has a sense of humor.
"People are just sitting there going, like, 'I don't care what she's saying. I don't care what she's saying. I just want to know is she getting naked? Is she getting naked in that movie? Is she naked? Nude? Nude? Naked? Do I see her boobies?' So let's just get through to that. Yes! And now that I've cleared that up, let's just go to the next question, because nobody cares about anything else, really."
Update: I wonder if she will be catching up with Silvan.