The Palestinians' Willing Accomplices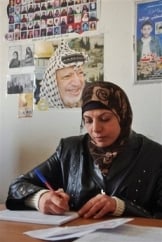 Palestinian Shifa al-Qudsi, 30, who was caught and jailed six years ago after planning to blow herself up at an Israeli beach hotel, fills out a form at the Prisoner Club offices in the West Bank town of Tulkarem, Wednesday, Feb. 27, 2008. Just out of prison, the 30-year-old former hairdresser said she isn't sorry for having plotted carnage among civilians, times were different then, she explained, but now hopes to meet ordinary Israelis to explain herself and help bridge the hostile divide between the two peoples. (AP Photo/Majdi Mohammed)
So let me get this straight. A woman so consumed by hatred for Israelis, who does not regret planning to blow up innocent civilians, now plans to "bridge the hostile divide between the two peoples" because "times were different then." Besides the innate implausibility of such a position – how could someone who is still adamant that blowing up innocent people is fine want to meet up with these people and be "peacemaker" – why were times different then? Nothing has changed. The palestinians still view suicide bombings as legitimate resistance, and they are living under the same conditions if you believe their own news sources.
No, this is propaganda, pure and simple. And the AP is right there as usual, more than willing to help disseminate it.
Update: And if you still don't believe me, this is what she said only half a year ago:
She has become "more political" and "closer to God" in prison, she says. She has also perfected her Hebrew. "We need to know the language of our enemy to better confront him, she said, a giggle softening the threat she is still determined to convey.

Would she discourage her daughter Diana from emulating her path towards martyrdom? I asked her. "I will teach her that education is the most important thing in life," she replied. "But our children can be shot coming home from school. The best of our children become martyrs, whether or not they want to be. So if she wanted to do this, I wouldn't try to stop her."
The only bridges this woman wants to mend are those she would pass over on her way to perpetrating a suicide bombing.