Protest Photo of the Day
Today's seething comes from Indonesia.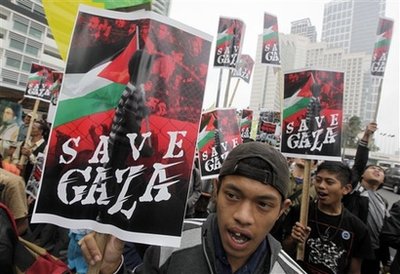 Indonesian Muslims hold up posters during a protest supporting the people of Gaza in Jakarta, Indonesia, Sunday, Jan. 17, 2010. Hundreds of protesters staged the protest urging Egyptian government to stop its construction of an underground steel wall along its border with Gaza which could eventually block hundreds of smuggling tunnels and deprive Gaza's Hamas rulers of their only lifeline. (AP Photo/DIta Alangkara)
You'd think this guy would have something better to protest.
Like the apparent lack of good dental care in Indonesia.