Art Lesson of the Day
Do you remember the manipulated photo of Obama, Netanyahu, King Abdullah and Mubarak at the recent Washington Middle East peace meeting?
Here's a reminder:
Original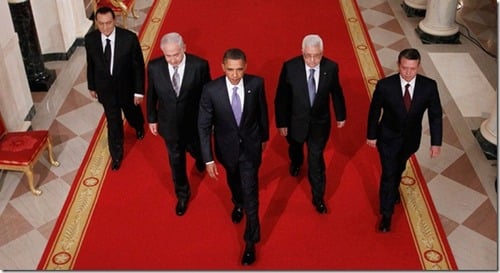 Manipulated
Well now the editor of the newspaper behind the attempted deception, Al-Ahram, has offered this excuse for it:
"The expressionist photo is … a brief, live and true expression of the prominent stance of President Mubarak  in the Palestinian issue, his unique role in leading it before Washington or any other," Saraya wrote. The photo is still posted on the newspaper's website.
Sorry, but anyone that knows anything about art could not call the photo expressionist.
Per the Encyclopedia Britannica:
Expressionism, artistic style in which the artist seeks to depict not objective reality but rather the subjective emotions and responses that objects and events arouse within a person. The artist accomplishes this aim through distortion, exaggeration, primitivism, and fantasy and through the vivid, jarring, violent, or dynamic application  of formal elements.
No, the correct term for Al-Ahram's photo is photoshopped.
Mr Al-Ahram editor: Had you really wanted to go the route of expressionism, you should have published something like this*:
Don't thank me, I'm a giver.
*If you want to use that image, my fee is $10,000. That is including my discount for peace partners.