Liars, Liars
It is no secret that the palestinians and their supporters outright lie in order to turn world opinion against Israel. They treat the truth like any Israeli casualty of the terrorist war against us: with blatant disregard. 
Just from today we can see two very blatant examples.
Example 1: Palestinian Diana Alzeer tweeted this photo of a girl "injured in the Israel AirStrikes over Gaza."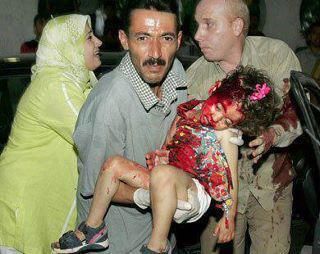 There's only one problem: the photo is from 2006, and is of a palestinian girl who died after she fell off a swing.
(When this was pointed out to Alzeer, she tweeted it was a lie, claiming that the photo "was take [sic] last night in Gaza by a photographer that works for Mohammad Ahmad which was sent to media today!")
Example 2: Anti-Israel tweeter Nablussi posted this photo on facebook, claiming it is from today.
It's not. Try 2008.
Hat tip: Avi Mayer
Update: It looks like Nablussi has now taken down the photo, instead of posting a retraction. How convenient.
That's where screenshots come in handy: