The BBC And The 'Angry Soldier'
Much has been made about the BBC's anti-Israel stance, as manifest by its refusal to list Jerusalem as the capital of Israel. Our very own Brian of London has been all over this like a bad rash.
But it bears reminding (or perhaps this has not been pointed out before?) that up until very recently, this was the photo greeting visitors to the BBC's Israel profile page.
In other words, out of all possible photos to depict Israel, the BBC chose that of an "angry soldier."
Following reader complaints, the BBC has changed the photo to this: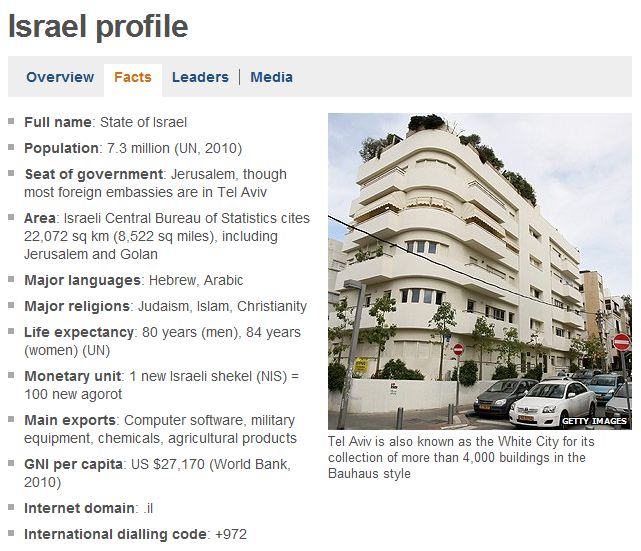 I guess they couldn't have posted a photo of Jerusalem, given they aren't willing to recognize it is part of Israel!
Meanwhile, you have to read Benji's BBC, I'm the Capital of Your Mom.
Last I checked, the BBC is not a policy-making body. It exists to report the news, not make it. What if Sports Illustrated decided that Maccabi Tel Aviv won the World Cup? BBC, you can't just make things up. Reporting that Lindsay Lohan took home an Oscar for her tear-jerking performance in "Schindler's List" doesn't make it so. If you write a story that Bar Refaeli and I were seen canoodling on Gordon Beach last night and expect people to believe it, think again. (Even though this did actually happen.)

Alright, I lied. It happened in a lush meadow in broad daylight.

Journalism is a serious field where the best reporters pay their dues for years to climb to the top of their profession. So what in the hell is going on at the BBC? How did the people over there determine that Israel simply has no capital? Did they send a crack reporter here to search and he just couldn't find it? Was he embedded in an alpaca farm in the desert?

Or could it be that they simply chose the wrong news sources? Is their Middle East informant Perez Hilton? Is their Deep Throat a four-year-old drunk kid in gan? Hey, BBC, when your source of information on Israeli geography is a card-carrying member of the al-Aqsa Martyrs Brigade, it's probably time to re-examine your objectivity.
Read the whole thing.