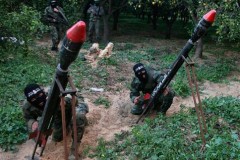 Regular readers may be wondering why I have not set up a liveblog like during previous conflicts. The answer is twofold:
1. I do not have the time, especially considering my personal circumstances at the moment
2. Much like Video killed the Radio Star, Twitter killed the liveblog.
For these reasons, I have set up the Twitter feed in the right sidebar. Me, Brian, and Judge Dan will be tweeting when we get the chance, so you will be able to keep up to date with developments and see our own insights on what's going on. (If you also want to contribute to the tweeting, please use the #PillarofDefense hashtag).
And you can still have Israellycool as your landing page.
Spread the word!
Please help ensure Israellycool can keep going,
by donating one time or monthly