Shirley Temper Mourns Her Palestinian Policeman Relative
Remember Shirley Temper, the blonde palestinian girl and Pallywood darling?
She's back in the news, this time mourning her brother relative.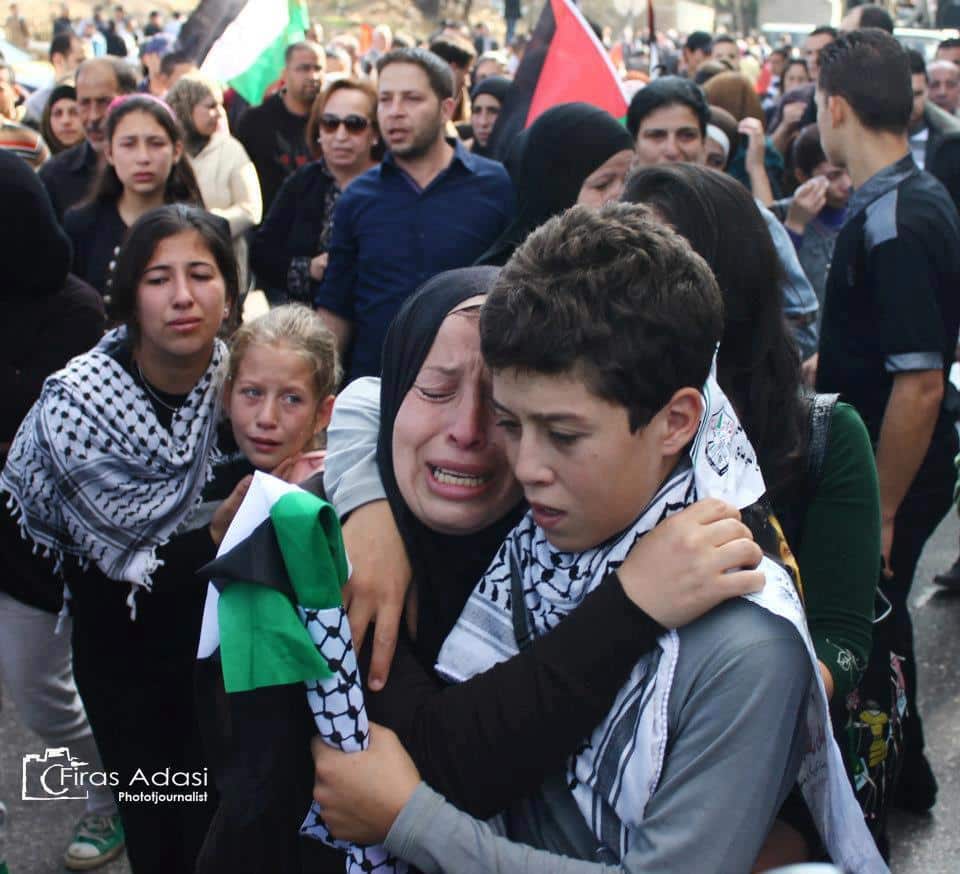 Via the JPost:
Palestinian activist Abir Kopty of the Popular Struggle Coordination Committee reported Monday that a Palestinian died in a Ramallah hospital two days after he was shot by an IDF soldier.

The incident took place in the West Bank village of Nabi Saleh during clashes at protests against Operation Pillar of Defence.

In a video released Monday, around a dozen youths can be seen throwing rocks at IDF soldiers from a hillside in the village, while the soldiers fire tear gas and what sounds like rubber bullets.

At one point, Rushdi Tamimi, 31, is seen sitting on the hillside, then shots are heard and he falls to his side. The video then cuts to footage shot by a cameraman running to help Tamimi, who is seen crouched with blood on his head. The soldiers tell the protesters to back away from the man, but after a few minutes they relent and allow the protesters to allow him to be taken to a hospital.

Kopty said that Tamimi was shot once in the lower back and the bullet lodged in his stomach. Although he was admitted to a hospital by Saturday evening, he died of his wounds, she said.

The IDF Spokesman's Office told The Jerusalem Post on Monday that "on Saturday there was an illegal violent protest where some 80 Palestinians threw rocks at IDF forces who used crowd dispersal methods against them."
While the exact circumstances of his death are not yet clear, what seems to be clear is he was no boy scout.
On the Tamimi Press Facebook page, he is described as a "Palestinian national liberation movement martyr" and his photo is featured with the Fatah emblem, rifles and all.
There's also this post, auto translated as follows:
Urgent: the martyrdom of the young Rushdie Mahmoud al-Tamimi of his wounds in the village of Nabi Saleh
Tamimi Press: trumpet Popular Resistance Movement Palestinian uprising in the village of Nabi Saleh hero martyr Rushdie Mahmoud Hassan al-Tamimi, 28, who died of his Bjarha that injured two days agofollowing a confrontation broke out in the village of Nabi Saleh in solidarity with the Palestinian people in the Gaza Strip was shot live in thigh and abdomen and was taken to the Palestine medical complex inRamallah and suffered internal bleeding before they rise to God as a martyr
Martyr al-Tamimi from the village of Nabi Saleh and works in a Palestinian police and invite you to participate in his funeral on Tuesday
I am God and to Him we return
His work in the palestinian police is confirmed by Maan News.
While it is not clear he was a terrorist, at the very least he was a member of the palestinian police, which makes it highly unlikely he was at the protests merely yelling out curses and picking daisies.
Update: