Free Gaza Caught In A Lie (Again)
Remember the whole Greta Berlin antisemitism controversy? At the time, the Free Gaza co-founder posted links to some antisemitic videos, and she and Free Gaza then tried to backtrack with a number of excuses, including this:
I am not a Holocaust denier. And I am not a supporter of the video that I posted, nor would I ever have been. It was, in fact, an example of propaganda that is EXACTLY what I and others are horrified over. The video (although I didn't watch it then) seemed like the kind propaganda that our group was discussing. And I passed it on because of the title.
this:
A TWEET from the Free Gaza TWITTER account was posted several days ago that had a link to a lecture titled, "Zionists Ran the Holocaust and the Concentration Camps." This TWEET did not come from Free Gaza, and does not represent FG's position in any way whatsoever; in fact we condemn its content. It came from Greta's private Facebook page and was shared with a group of people  who were discussing propaganda and racism, and this link was an example of the terrible propaganda that could be spewed on websites. For some reason, Facebook connected our Free Gaza account to her personal Facebook account, and the link was posted.

Greta has added, "I apologize that I did not watch the video before hitting SHARE on Facebook. I was in a rush to get to a book event and simply reposted. The fault is completely mine. Free Gaza had nothing to do with the post at all. "
and this: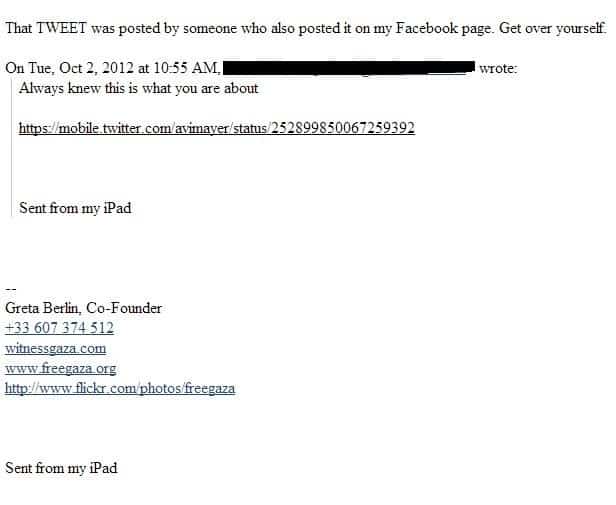 Now a few months later, Free Gaza has been caught in a boldfaced lie. Responding to a (sarcastic) tweet, they have claimed that Berlin's account was hacked!
@vssrrr Took us a computer expert to unhook the two, but her account was hacked. Was yours?

— Free Gaza Movement (@freegazaorg) November 25, 2012
They probably thought no-one was paying attention, but the tweeter Banana Republic alerted me to this and the rest is history.
Hopefully soon, Free Gaza will be history too.