Ynet – A Falling Star
Nasa's Kepler mission discovered a new moon-size planet:
NASA's Kepler Mission Discovers Tiny Planet System

WASHINGTON — NASA's Kepler mission scientists have discovered a new planetary system that is home to the smallest planet yet found around a star similar to our sun.

The planets are located in a system called Kepler-37, about 210 light-years from Earth in the constellation Lyra. The smallest planet, Kepler-37b, is slightly larger than our moon, measuring about one-third the size of Earth. It is smaller than Mercury, which made its detection a challenge.
And for the average Joe, here's an artist's illustration
Truly fascinating stuff, which Ynet just have to ruin with moronic captions and below average reporting.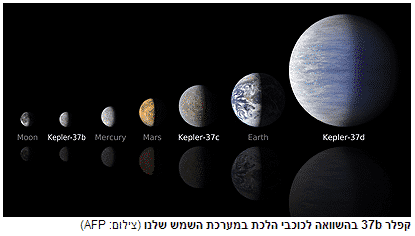 The caption translates to:
Kepler 37b in comparison to the planets in our solar system (Photography: AFP)
Apparently, our solar system now includes Kepler 37b, 37c and 37d, and our moon is now a planet. This sure as hell isn't a photograph, and crediting AFP for it (reminder, it's NASA's), while translating a Reuters article verbatim, is retarded.