In case you were not aware where comedienne Rosie O'Donnell stands on Israel, this "art" she designed, drew and is now hawking on her website should clarify things: Israel Begins Bombing Gaza Acrylic Print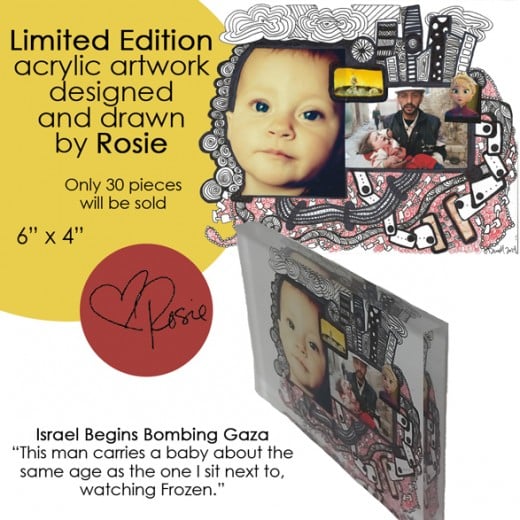 My first reaction was equal parts disappointment and "WTF?"
Then I looked closer at the images and did the investigative thing.
Not surprising, it turns out the photo of the man holding the child wearing a red dress is not from Gaza at all, but rather Syria (and her store contains no Syrian civil war-related products, naturally).
[click on image to enlarge]
I was not able to locate on the Web the large photo of the toddler, and for all we know it is a photo of a random child.
The only photo in this piece of.."art"..which is what it purports to be, is that of Elsa.
So once again we have an Israel-hater – albeit a celebrity one – spreading lies and disinformation.
Rosie, you are no Roseanne, that's for sure.
Update: Rosie has not responded to my query on Twitter, but has responded to others who questioned why she was using an image from Syria.
@israelradioguy – I got the image from the newspaper

— ROSIE (@Rosie) December 11, 2014
@cosplayhassid – i made it the day Israel started bombing gaza – the image of a dead child – next to the image of my own – is the point

— ROSIE (@Rosie) December 11, 2014
From these responses, she hardly sounds contrite about using a false image. Or about ripping a Getty image to generate sales.
Update: O'Donnell has removed the "art" from her store.