Hollywood actor Richard Gere has arrived in Israel as a guest of the Peres Center for Peace, as well as to film scenes in Jerusalem for the upcoming movie Oppenheimer (information I ferreted out in October).
Film legend Richard Gere is set to cause a ruckus around the Holy Land, including in Jerusalem and Tel Aviv, as the star arrived Monday for his first visit since 2009.

Despite the early hour — he landed at Ben-Gurion airport at 5:30 a.m. — Gere managed to cause a commotion among the lined-up hotel staff at Jerusalem's Leonardo Plaza hotel, where he will stay in the glamorous 22nd-floor presidential suite that has also hosted the likes of Natalie Portman and other famous names.

The Hollywood star made a number of interesting requests for his hotel room. He asked that the room include a variety of Green teas, as well as fresh-potted lemon balm, sage and mint. Gere also requested that his room contain a mix of dried fruits and raw nuts, especially pecans, and a selection of fresh organic fruits and vegetables.
No mention of masking tape.
Also no mention of whether or not he is going to catch up with his old friend Hanan Ashrawi, definitely not a Pretty Woman in any sense of the word.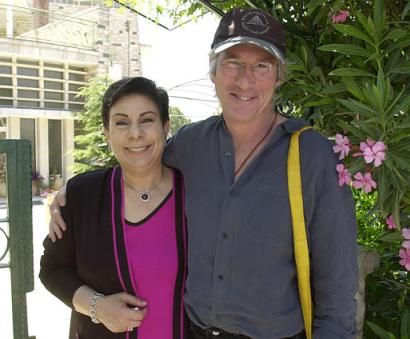 Please help ensure Israellycool can keep going,
by donating one time or monthly