Arab Social Media Going On A Wild Goose Chase
Since Friday's terrorist arson attack, Arabs on social media have begun posting pictures of Yehuda Landsberg, claiming he's the assailant.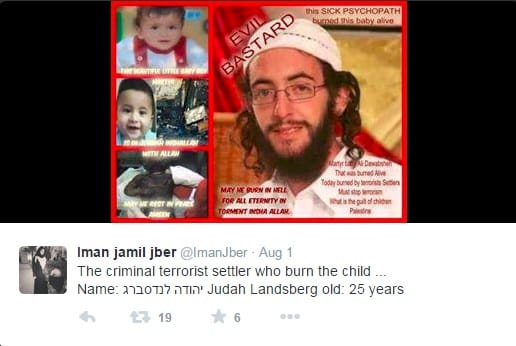 The only problem: Yehuda Landsberg was sent to jail for a 2.5 year sentence last December
Two Jewish settlers were sentenced Sunday to 30 months in prison and a year on probation for torching several vehicles belonging to Palestinians in a northern West Bank village last year.

The Lod District Court deemed the arson a "price tag" hate crime attack and further ordered the perpetrators of the act to pay NIS 15,000 (about $3,816) as compensation to the owner of one of the ignited vehicles.

The sentence was the lengthiest ever to be given to individuals convicted of carrying out a price tag attack against Palestinians.

Yehuda Landsberg and Yehuda Savir, both residents of the illegal Havat Gilad outpost in the northern West Bank, attempted to set fire to a construction site in the nearby Palestinian village of Madama in November 2013.
So unless Landsberg pulled a Guzman, he's definitely NOT the attacker.
That doesn't prevent the usual anti-Israel crowd from disseminating this information, like this Al-Jazeera presenter with more than 5 Million followers.
https://www.facebook.com/BenguenaKhadija/photos/pb.240883675929542.-2207520000.1438542141./1150272474990653/?type=3&theater
.
None of them will issue a correction when the names of the actual attackers (reports say there were two) will be revealed, Landsberg is a McGuffin, a Red Herring, used to incite against Israel and Jews by people who don't actually care for the truth.