Israel's Apple Users Deserve Better Than iDigital
There's only one goal with this post: spur something to change in Israel with customer service connected to Apple.
Over the last few years, spearheaded by the iPhone, Apple products have come to be massively popular in Israel. The big problem? Apple does not have an official support presence here. All service and support is provided by the woefully deficient iDigital franchise.
Case in point: earlier this year my 2013 MacBook Pro had developed a fault with it's graphic card. This is a known problem. Apple has issued a recall and a warranty extension for all affected models.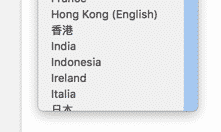 But when you select the country in which to have this easily taken care of you get a long, long list with one glaring omission between Ireland and Italia. Yup, Israel.
That's because Apple doesn't run its own retail stores in Israel. This despite Israel being fundamental to it's research and development arms through the purchase of Anobit, Primesense and other small companies. In fact Apple only do research in the USA and Israel.
So when you often start seeing the following on your $3000+ MacBook Pro (which you did buy in the USA and bring to Israel yourself) you just want to get it fixed.
Despite having previous disappointments with iDigital in Israel I thought I would give it a try. I took the machine to them, printed out the page from Apple's own website explaining the problem, proving that my machine was directly affected. I stood while they ran an Apple diagnostic that found and confirmed my machine had a problem. I handed it over and was told it would take at least a week.
After just over a week I got a call saying they knew I had a problem but they wanted $500 to fix it. They wouldn't do it under warranty (because I was out of warranty) and that they wouldn't honour Apple's recall notice. I argued to no avail. I told them not to repair it and return it to the store so I could collect it.
At the store they presented me with a ₪150 ($40) bill for looking at the machine. I looked at them with surprise, grabbed my machine from the counter and left the store. I shouted back over my shoulder to sue me. The store's manager called as I drove away and we argued some more. I told him to sue me. I never agreed to a fee for them "looking" at the machine. I haven't been sued.
The only recourse was to send the machine to New York with a friend who kindly took it in to Grand Central Station's Apple Store on an appointment I made on the web. They said no problem, no charge, told her one week, she asked if it could be quicker because she was flying out sooner and sure enough, two days later it was back. It's now made its way back to Israel and it's fixed.
Which is to say why, oh why, does Apple allow such a monstrously bad company like iDigital to be their public face in the tech mad country of Israel? I'm not even talking about the prices! We have a 17% VAT here, I understand that, but still their prices are more extravagantly padded than comparative high end Windows manufacturer's products.
Israel deserves better from this, come on Apple Inc. Either whip iDigital into shape or take over service here in Israel. Service can be done well in Israel and with your growing reliance on Israel for new ideas and new technology, you owe it to yourselves to stop having your reputation sullied.
---
Footnote: This turns out to be the second laptop I've had with the same problem: I actually fixed my earlier 2011 machine at my own expense before the recall was announced. I can't claim this money back because I used an independent repairer here in Israel.
Another Footnote: If you've got a story of poor service (or great service, let's be fair) about iDigital in Israel please leave a comment!