Revealed! Antisemite Behind Anonymous Twitter Account Impersonating Me
A while ago, someone set up an anonymous Twitter account impersonating me.
They have used my brand and profile pic, but evaded Twitter's rules by stating they are a parody account.
And by parody, they mean an account tweeting vile Jew hatred and anti-Israel propaganda.
I reported them, as did my followers, but to no avail.
So I have gone one better. I've discovered who is behind it. And now is their time in the limelight.
You see, they slipped up, big time, with this antisemitic tweet (here is the meaning of 'quenelle' if you do not understand).
Another antisemitic tweeter going by the name WASA (FOYS75) – who is constatly retweeting this impersonator account's hateful tweets – has tweeted what looks like the same dog, calling it his sister's.
Notice the markings on the forehead – I am sure this is the same dog. But bear with me.
WASA/@FOYS75 is a guy called Peter Clark. Because the dumbass has said it.
This is Peter Clark.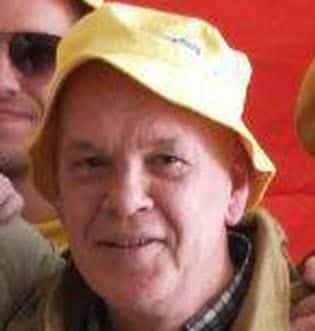 He is constantly tweeting anti-Israel propaganda on Twitter as WASA/@FOYS75, but is a vile Jew hater who constantly lets down his guard and spreads hate against Jews.
And here's where it gets even more interesting.
Remember vile antisemite Sue Clark?
She did not appreciate the attention my post gave her, and so has proceeded to lie and defame me on Twitter ever since.
It seems Peter Clark is her brother!
Which means I am pretty sure Sue Clark is behind the impersonator account attempting to defame me.
Well done Sue! Your vile behavior has become the subject of yet another post, and now your equally vile brother has joined the party!