Ken Roth, the Executive Director of Human Rights Watch, has proven himself to be rather sloppy with the facts when it comes to Israel. And as a recent tweet of his shows, he is rather sloppy when it comes to other facts as well.
Roth tweeted this about 4 hours ago as of the time of this post.
https://twitter.com/KenRoth/status/827388914436501508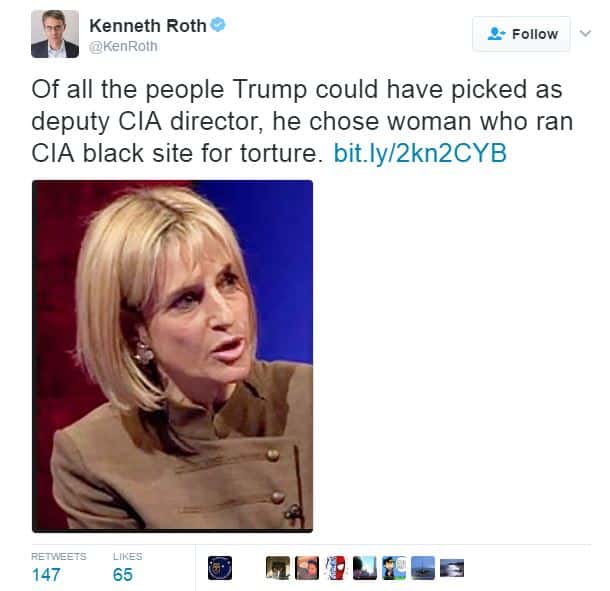 The article Roth links to in his tweet reports that the woman is unnamed "because she was a covert agent at the time."
Which begs the question: How can Roth have a photo of her?
Simple answer: it is not a photo of her at all. It's a photo of BBC journalist and newsreader Emily Maitlis, who was quite mortified by Roth's tweet.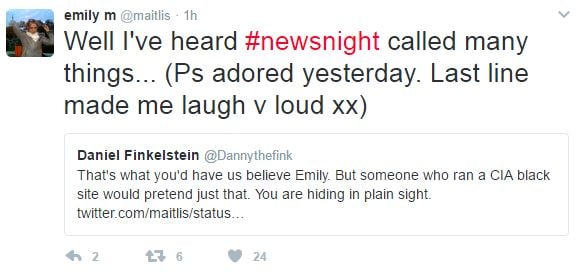 And if you think that response is funny, that is only the tip of the ridicule iceberg.
https://twitter.com/RobSkilbeck/status/827426033964040192
@maitlis Someone is about to receive a crash course in British Defamation Laws! #Newsnight

— Joanna Meier (@JoannaMeier) February 3, 2017
Oh Ken. Rough day ahead…

— Corinne Podger (@corinne_podger) February 3, 2017
.@KenRoth I hear you, May just picked this torturous woman as head of MI5. #SadnessInHerEyes pic.twitter.com/jcWvdXbRES

— Wefail (@wefail) February 3, 2017
I remember her when she used to play for Leeds Utd. pic.twitter.com/LU1SZgPZxI

— Scots Footy Cards (@ScotsFootyCards) February 3, 2017
Head of MI6 now implicated. pic.twitter.com/ms7IXQLoEg

— Paul Kelly (@UptonPK) February 3, 2017
Incoming CIA director is also woman who ran CIA 'black n white' sites in north England. pic.twitter.com/fERhDRYmlO

— Highway62 (@Highway62) February 3, 2017
She also ran a torture camp in Britain, code named 'Crinkly Bottom'. pic.twitter.com/rxuAvZZXHn

— Rainy (@rainy101) February 3, 2017
she scrubs up well….you should see her after one of her clandestine interviews she secretly conducts in BBC pic.twitter.com/Ngjzngzc7B

— Timmy Tour (@TimmyTour) February 3, 2017
It's spreading. This tyrant with her evil sidekick is now running death squads. pic.twitter.com/hSGNFeSfJ2

— Rusty (@Rusty123B) February 3, 2017
worse is his pick for the head of USDA pic.twitter.com/SGgRBEEVeY

— Lorin Bell-Cross (@LBellCross) February 3, 2017
Its worse over here in the UK mate,Theresa May's new head of Social Housing wants us all living in Pink windmills pic.twitter.com/ePweyjO66b

— Deano Baggio 2.0 (@DiscoDean7) February 3, 2017
Wait till you see who Theresa May has appointed head of agriculture then pic.twitter.com/22zQL1ZKlo

— Deano Baggio 2.0 (@DiscoDean7) February 3, 2017
Despite all this ridicule, Roth has not deleted the tweet or corrected it – even though he has tweeted since and has, no doubt, learned of his mistake.
Which means Roth is either arrogant or clueless. Or perhaps both.