HRW's Ken Roth Completely Humiliated On Twitter
Ken Roth, the Executive Director of Human Rights Watch, has proven himself to be rather sloppy with the facts when it comes to Israel. And as a recent tweet of his shows, he is rather sloppy when it comes to other facts as well.
Roth tweeted this about 4 hours ago as of the time of this post.
https://twitter.com/KenRoth/status/827388914436501508
The article Roth links to in his tweet reports that the woman is unnamed "because she was a covert agent at the time."
Which begs the question: How can Roth have a photo of her?
Simple answer: it is not a photo of her at all. It's a photo of BBC journalist and newsreader Emily Maitlis, who was quite mortified by Roth's tweet.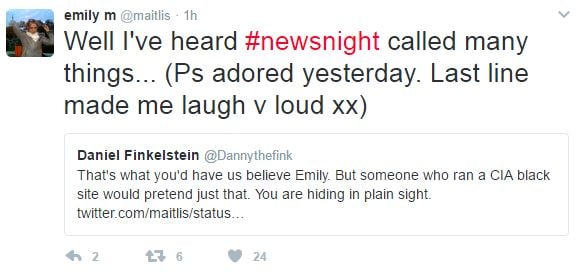 And if you think that response is funny, that is only the tip of the ridicule iceberg.
that's a BBC news presenter. Delete your account.

— Big Rob (@RobSkilbeck) February 3, 2017
https://twitter.com/wefail/status/827425380181168128
https://twitter.com/LBellCross/status/827447582788087808
https://twitter.com/DiscoDean7/status/827438468741656576
https://twitter.com/DiscoDean7/status/827434410895097856
Despite all this ridicule, Roth has not deleted the tweet or corrected it – even though he has tweeted since and has, no doubt, learned of his mistake.
Which means Roth is either arrogant or clueless. Or perhaps both.