Jewish Camp Doubles Down on Palestinian Flag Fiasco
Responding to communal outrage over the raising of the Palestinian flag at their Jewish summer camp, officials at Camp Solomon Schechter issued a non-apology, apology today via their Facebook page.
Inundated with hundreds of angry posts to their Facebook page following exposure of their flag raising debacle, the camp initially responded by blocking pro-Israel commenters and deleting critical posts. As the scandal steamrolled across the pro-Israel blogosphere, the camp finally issued a statement apologizing for "upsetting some in our CSS and larger Jewish community" but not apologizing for the flag raising itself.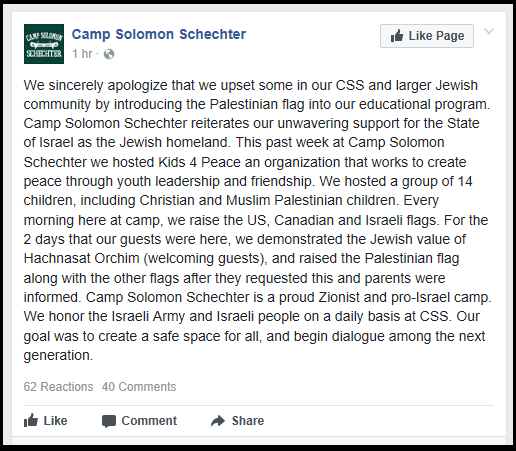 The clumsily worded statement in fact doubled down on the offending act, elevating the raising of the Palestinian flag as a demonstration of "the Jewish value of Hachnasat Orchim (welcoming guests)", the guests being a Palestinian delegation spending several days with the Jewish camp under the auspices of  Kids4Peace. Adding insult to insult, the Schechter administration further justified the Palestinian flag raising as an attempt to create a "safe space for all", disregarding the emotional impact the flying of the Palestinian flag would have on their young Jewish campers. Despite the jumbled messaging the camp firmly maintains their Zionist bona fides.
While many in the tight-knit Pacific Northwest Jewish community expressed indignation at the flying of the Palestinian flag at the legacy Jewish camp, radical anti-Israel blogger, BDS supporter and terror apologist Richard Silverstein endorsed the camp, adding that "there should be nothing wrong with raising a Palestinian flag".
Rabbi Yohanna Kinberg, who recently marched alongside anti-Israel group IfNotNow, posted a broadside attack against me (I broke the story on my own blog before posting here):
"This blog [The Mike Report] is a vile piece of trash it is truly anti-Jewish and anti-Israel in promoting hate. Camp Solomon Schechter is a very very Zionist camp and bringing kids 4 peace into their community was Jewish leadership at the highest level shame on all of you for reading this man's blog.
Which leads us to ask the question, with endorsements like these, who needs endorsements?
Update: The Camp Solomon Schechter leadership has now issued the following statement of apology.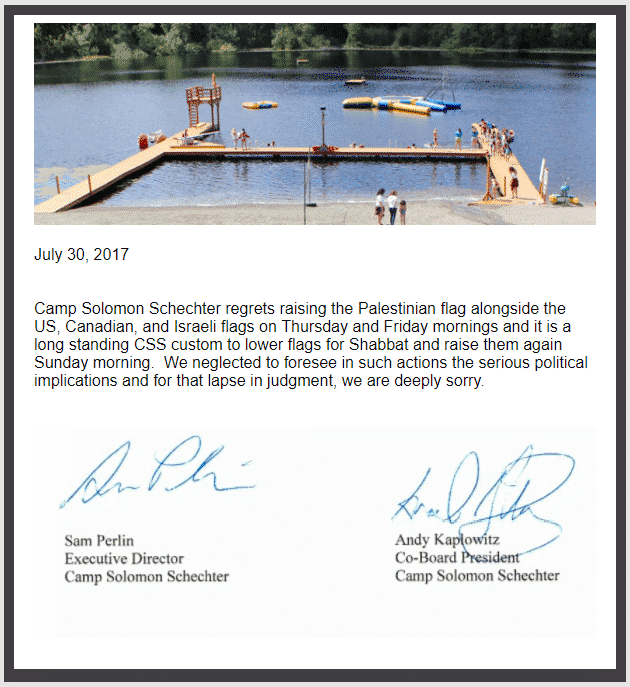 Camp Solomon Schechter regrets raising the Palestinian flag alongside the US, Canadian, and Israeli flags on Thursday and Friday mornings and it is a long standing CSS custom to lower flags for Shabbat and raise them again Sunday morning.  We neglected to foresee in such actions the serious political implications and for that lapse in judgment, we are deeply sorry.