Anti-Zionist-Not-Antisemite Of The Day: Sonia Mota (Mozambique, Africa)
Meet Sonia Mota.
An artist from Mozambique, Sonia came to my attention trolling my Twitter timeline with hate towards Israel.
But it really took her no time at all to reveal what is really behind this.
Note the yellow "Jude" star from Nazi Germany? Nice touch! As is this reference to the "chosen people"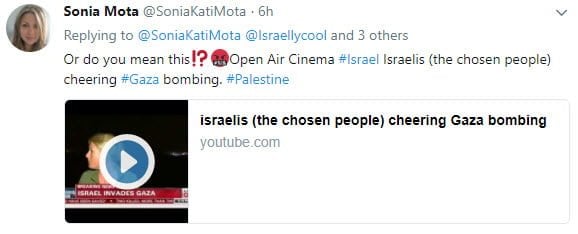 Minimizing the Holocaust? Check!
Sonia also prides herself on her knowledge of Jewish geneology

And naturally if she thinks she found a barbaric Jew in history, she'll tweet about it
Yeah, she seems a tab obsessed
Interestingly enough, she seems to have named her dog Bibi.
Sonia, thanks for playing Anti-Zionist-Not-Antisemite. Unfortunately, you lose!