Law Professor Noura Erakat Seems to Be Saying Palestinians Put Themselves on Map Through Terrorism
Noura Erakat is an assistant international law professor at George Mason University and the niece of PA negotiator propagandist Saeb Erekat. And like uncle, she is an Israel hater who plays loose with the truth.
A few days ago she tweeted the following in response to this Washington Post article.
I had been trying to think what Erakat meant by "Palestinians put themselves on the map – literally" from 1968-88. She is referring to some way the palestinians paved the way, from 1968, towards their 1988 Declaration of Independence, which was subsequently acknowledged by United Nations General Assembly Resolution 43/177.
The answer, my friends, is blowin' in the wind up in the skies.
Among the many children of the Six-Day War, the most frightening is international terrorism. Of course, terrorism, including Palestinian terrorism, predated 1967, but the war changed its scope, scale, and very nature. Before the war, Palestinian terrorists struck at targets in Israel, often in cooperation with neighboring states. After the war, the Palestinians used terrorism to internationalize the conflict, hijacking and destroying airplanes, holding diplomats hostage, and even attacking Israelis at the 1972 Munich Olympics.
Israel's MFA website lists the major terror attacks during this time period. And it is not a short list.
Jul 22, 1968 – Rome, Italy
The Popular Front for the Liberation of Palestine (PFLP) carries out first hijacking, diverting an El Al flight to Algiers. 32 Jewish passengers were held hostage for 5 weeks.
Sep 4, 1968 – Tel Aviv, Israel
1 killed and 71 wounded by 3 bombs that exploded in city center.
Oct 1968 – Hijacking of El Al aircraft en route to Algeria.
Nov 22, 1968 – Jerusalem, Israel
12 killed and 52 injured by a car bomb in the Mahaneh Yehuda market.
Dec 26, 1968 – Athens, Greece
1 killed and 1 wounded in a shooting attack on an El Al aircraft at the airport, carried out by the PFLP.
Feb 18, 1969 – Zurich, Switzerland
A pilot and 3 passengers killed by terrorists that attacked an El Al Boeing 707 on the airport runway.
Feb 21, 1969 – Jerusalem, Israel
2 killed and 20 injured by a bomb detonated in a crowded supermarket.
Oct 22, 1969 – Haifa, Israel
4 killed and 20 wounded by terrorist bombs in 5 apartments.
Feb 10, 1970 – Zurich, Switzerland
1 killed and 11 wounded by 3 Arab terrorists who unsuccessfully attempted to hijack an El Al flight at Zurich airport.
May 22, 1970 – Avivim, Israel
Terrorists attack schoolbus, killing 12 (9 of whom were children), and wounding 24.
Sep 6, 1970 – Dawson Field, Jordan
3 airliners holding over 400 passengers were hijacked, and taken to the Jordanian airport by the PFLP. The hostages were released in exchange for terrorists held in Germany, Switzerland, and England.
May 8, 1972 – Lod airport, Israel
1 passenger was killed in a rescue operation by Israeli commandos on a hijacked Belgian airliner; 2 of the 4 Palestinian Black September terrorists were killed. The hostages were freed.
May 30, 1972 – Lod airport
26 killed and 78 wounded after PFLP and Japanese Red Army terrorists open fire in the passenger terminal.
Sep 5, 1972 – Munich, Germany
11 members of the Israeli Olympic wrestling team and 1 German policeman were massacred by Fatah terrorists after an unsuccessful rescue attempt by West German authorities.
Apr 11, 1974 – Kiryat Shemona, Israel | 18 killed, 8 of whom were children, by PFLP terrorists who detonated their explosives during a failed rescue attempt by Israeli authorities.
May 15, 1974 – Maalot, Israel
27 killed, 21 of whom were children, and 78 wounded by PFLP terrorists in a school, after an unsuccessful rescue attempt.
Mar 5, 1975 – Tel Aviv, Israel
Terrorists take over the Savoy hotel; 4 people are killed.
Jul 4, 1975 – Jerusalem, Israel
14 killed and 80 injured in Zion Square bombing attack, in which the bomb was hidden in a refrigerator.
Jun 27, 1976 – Entebbe, Uganda
An Air France airliner was hijacked by a joint German/PFLP terrorist group, which diverted the flight to Entebbe airport. About 258 passengers and crew were held hostage until all non-Israeli passengers were released. On July 4th, Israeli commandos flew to Uganda and rescued the remaining hostages. All terrorists were killed, as well as 3 passengers and operation leader Lieutenant-Colonel Yonatan Netanyahu.
Aug 11, 1976 – Istanbul, Turkey
4 killed and 20 wounded by PFLP and Japanese Red Army terrorists in an attack at Istanbul airport.
Mar 11, 1978 – Glilot junction
36 killed, and over 100 injured, in a bus hijacking by a female-led Palestinian terrorist gang.
Apr 7, 1980 – Kibbutz Misgav-Am, Israel | Terrorists attack children's house on the kibbutz, leaving 3 dead, one of whom was a child.
Jun 3, 1982 – London, England
Abu Nidal organization attempts to kill the Israeli ambassador to London, Shlomo Argov, severely wounding him.
Oct 7, 1985 – PLFP attacks the Achille Lauro ship en route to Israel, murdering one of the passengers (an American national).
Sep 6, 1986 – Istanbul, Turkey
Abu Nidal organization attacks the Neveh Shalom synagogue, killing 22 people.
Nov 25, 1987 – Northern Border, Israel (near Kiryat Shemona)
2 Palestinian terrorists cross into Israel from Lebanon on hang gliders, killing 6 Israeli soldiers and wounding 8.
Aug 21, 1988 – Haifa
25 wounded in a grenade attack at the Haifa mall.
Of course, this is not surprising: Erakat has in the past referred to palestinian terrorism as "resistance."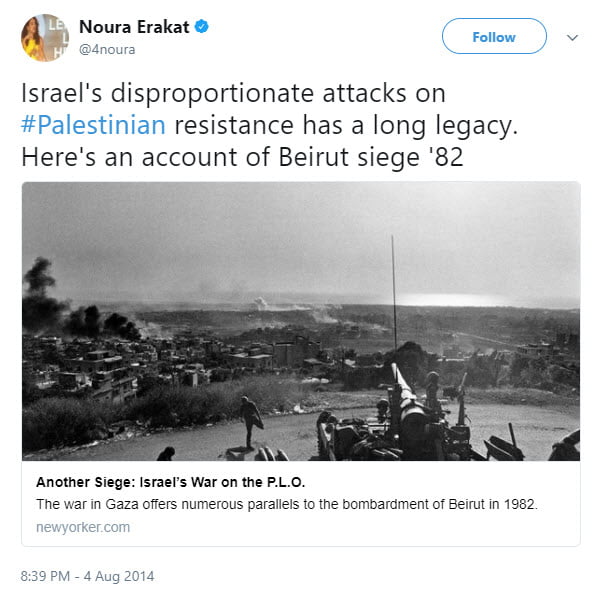 Remember, this is coming from one of the more "respectable" palestinian activists. Which I think speaks volumes about the bankruptcy of their cause – and the lack of vetting some US universities engage in before hiring their teaching staff.