Swedish FM Margot Wallström Disgraces Herself in New Interview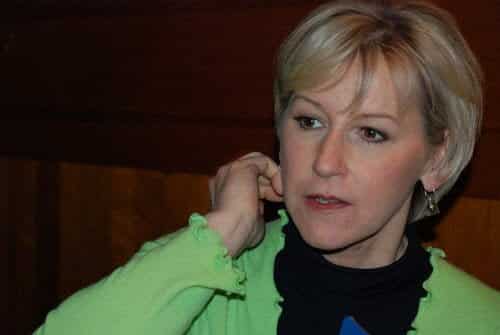 Swedish FM Margot Wallström has regularly proven herself to be an Israel hater who defends palestinian terrorists. And by speaking to "Judisk Krönika" (Jewish Chronicle), she probably intended to endear herself more to the Jewish community. But it seems from the English translation of parts of the interview that she has only succeeded in showing just how disgraceful her views truly are.
For instance, she refuses to really discuss antisemitism – whether it be that of the Left or of the Arab world.
As we all know, drawing a line between anti-Zionism, criticism of Israel and anti-Semitism is far from a simple matter.

For some, these things are the same and believe that a view where Israel should not be a Jewish state is equal to being against Jews, generally.

For parts of the political left and of course in the Arab world, anti-Zionism is a common occurrence, but it is obvious that Margot Wallström does not want to delve deeper into these definitions and drawing of ideological lines.

"No, i will not get into that kind of discussion, I'm not an expert on these issues – as I said, I want to find a political solution. We have to be able to criticize certain things or political decisions and the international community does that as well, but that isn't anti-Semitism."
Refuses to acknowledge why she has been called an antisemite (for defending palestinian terrorists, for example)
But to question the existence of a Jewish State – can that be anti-Semitism?

"I'm not a theologian and I can't answer that. But if I am accused of being an anti-Semite for promoting a two state solution I think that hurts the debate. I have always argued for Israel's right to exist within safe borders."
Claims she does criticize the palestinians and not just Israel (but note what she is not criticizing about them)
A lot of the criticism of Margot Wallström is that she is quick to condemn Israel but that she doesn't criticize the PA, given that the PA receives aid from the Swedish government. But according to Wallström there are constant talks with Palestinians leaders where she puts pressure on the other side.

"Always when we meet we talk about the fact that they need a younger leadership, that they need female representation and that they need to hold elections and start a reconciliation and work on issues that can lead to peace negotiations; to make the Palestinian Authority fully state-worthy."
Not that she does not speak about palestinian terrorism – but note how she focuses more on the red herring "settlement" issue and describes violence (on both sides) as a mere "hindrance," and does not condemn it as morally wrong.
The parties seem further away from each other than ever. Who do you blame for that

"No, (laughs), do you really think i would place blame on anyone..but naturally, if you are an occupational force then you have the responsibility not to do things to hinder the peace process. We say that in the EU and UN all the time. More settlements, more demolitions, I think it's the 3rd time that the EU is paying for the same buildings – that doesn't help but it hinders.

Each encouragement for violence and stabbings also creates a hindrance on the other side, of course. It creates a dynamic that makes it even more difficult."
Shows understanding for the PA's "pay for slay" policy (but then backtracks).
During the interview, Margot Wallström emphasizes that she understands that the Israelis need to live in a safe and secure environment. When the issue of financial support given by Sweden to the PA going to pay salaries to terrorist's families, she is somewhat vague about how she views the issue.

"This is something we do via the EU and with Israel's approval, otherwise these families would have no way of supporting themselves."

So you think it's right for the Palestinian authority to give money to the families of terrorists?

– No, I'm not quite sure what you're referring to in this case, but we have to review how we spend our money, but are people supposed to starve to death or what, what are these families supposed to do if they don't receive money? The FM asks rhetorically.

A few days after the interview, argot Wallström's press secretary sends me a clarification that no Swedish aid goes to the Palestinian authority's direct cash payment to needy Palestinian families and that no aid from Sweden or the EU is allowed to be paid as aid to Palestinian prisoners in Israeli prisons.
Plays dumb when it comes to antisemitism in Sweden
We leave the issue of Israel-Palestine and begin to talk about anti-Semitism in Sweden. How does she view the fact that Jews in Sweden are afraid in the public sphere and are afraid to wear their star of David or a kippah?

"It's horrible and it is our most important common task, to stem this hatred. To do everything we can as a society, with our legal system, by spreading knowledge and by speaking about it. All Jews must feel sage, in schools and so on."

A lot of this hatred comes from people with a background in the Middle East.

"Yes, and it's terrible wherever it comes from and however it manifests. We have to find more places to meet and where we can get to know each other. And then we have to stop the hatred, the hate you heard at home, that you're raised to view someone as an enemy and not a human being. That hatred exists on the right as well as in some of those who come here."

You meet with a lot of leaders in the Middle East. Do you ask them why anti-Semitic schoolbooks and TV-shows are being produced in their countries?

"Yes, those are things we talk about, how to stop incitement and all of the things that exist in society, there are a lot of sources, too many, and one has to deal with that."

What are their answers?

"I'm not sure there is an answer."
Before using it to launch into another attack on Israel
There are a lot of Jews in Paris an even in Malmö who feel that it is safer to live in Israel and who have moved there. Can you understand that?

"I can't comment on that, because I don't know their reasoning behind that. But to live behind walls—one has to feel free wherever you're from or whatever your religion is.."

What do you mean by "living behind walls"?

"Well, the fact that they have chosen to build a wall against Palestine. In principal, one is never really safe behind walls."
If this is how she speaks to a Jewish newspaper, once can only imagine what she tells the Muslim world, or even her confidantes behind closed doors.