Richard de Chazal describes himself as "one of Australia's most respected haute-couture designers, make-up artists, stylists and photographers."
I would describe him as a vile Jew hater.
Which has prompted the NSW Jewish Board of Deputies to publicly condemn the post:
NSW Jewish Board of Deputies CEO Vic Alhadeff condemned the post: "The cartoon and accompanying text are vile and bigoted. As for the law in question, no law can effectively stop people hating you; however, the law can and should stop people inciting violence against you.

"We thank the State Government for introducing this vital piece of legislation to ensure the safety of the people of NSW, and we applaud the state parliament for passing it unanimously."

Alhadeff is referring to the laws passed in NSW making it a personable offence to make public threats or incitements to violence made on the basis of race, religion or sexuality.
But de Chazal's antisemitism has been manifest for quite a while now
Which explains why he is genocidal when it comes to Israel.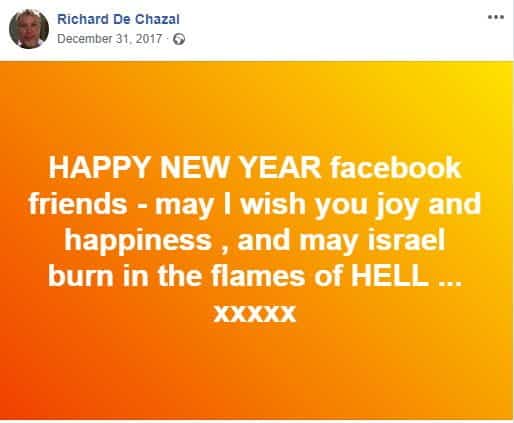 And has a complete lack of compassion for murdered Israelis.
Not that any of this would matter if he visited Gaza…he'd be hanged, drawn and quartered immediately
Interestingly enough, Chazal in the past wanted everyone to believe he was deeply affected by the events of 9-11 – well at least to explain why he stole.
AUSTRALIAN fashion icon and photographer Richard de Chazal made a cry for help when he stole bobbins and a photo frame from a store, a Coast court heard yesterday.

Mr de Chazal made an emotional statement to the court, revealing his depression since being injured during the September 11 terror attacks in 2001.

The designer was far from the flamboyant and extravagant fashion guru, who rocketed to fame in the 1990s.

He pleaded guilty to stealing from a shop at Mount Isa in December.

"I was in the middle of the September 11 attacks in 2001 where I was quite significantly injured and witnessed some horrific things, which of the last 10 years have plagued me," Mr de Chazal told Maroochydore Magistrates Court. "Several things last year happened in the time between October and November," he said.

"They included the murder of a friend and the discovery that I was $40,000 in debt due to rather reckless charitable donations," he said.

—

Mr de Chazal stole $439 worth of items from the store, including two journals, two silk bobbins, a book and a family photo frame.

All were returned.

Mr de Chazal said before he left Mount Isa he went to the store with an envelope containing about $900.

"I expressed my sincerest apologies and gave her (the owner) the envelope as some kind of restitution," he said.

Magistrate Bernadette Callaghan said Mr de Chazal's stealing was "clearly a cry for some sort of help".

He handed to the court a letter from his psychologist.

Ms Callaghan told him it was important to continue being treated by his doctor and psychologist.

Mr de Chazal said he was embarrassed by the crime.

"It's a small town and I was rather a celebrity and was on their billboard of heroes," he said.

"I've completely humiliated myself."
I would suggest he is full of sh*t if he holds these anti-Israel and antisemitic views after witnessing what happened on September 11, 2011. Furthermore, he has completely humiliated himself yet again.
Please take note of his name – Richard de Chazal – and boycott anything he is involved with.
Please help ensure Israellycool can keep going,
by donating one time or monthly