Yesterday, anti-Israel Facebook page Quds News Network posted an old video, claiming that Israel advocates are "paid Israeli professionals" and "bigots." Of course, neither is true.
Israel has an army, literally, of trolls whose job is to post propaganda online.So, that pro-Israel bigot you are engaging with on social media is almost certainly a paid Israeli professional.

Posted by Quds News Network on Sunday, August 26, 2018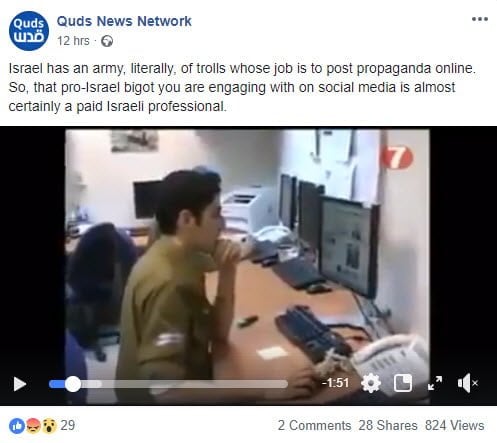 But speaking of "bigots', this is the same Quds News Network that also posted this a few hours earlier:
A news report followed by Eustace Mullins, an anti-Zionist Historian, explains the Nazi-Zionist agreement that was forged in WW2 which then had a role in establishing the state of "Israel".

Posted by Quds News Network on Saturday, August 25, 2018
For those who do not know, Eustace Mullins was a rabid Jew hater.
To paraphrase their hero Jeremy Corbyn, they don't seem to understand irony.
Update: Interestingly enough, their Twitter account does not seem to have tweeted this – or perhaps they did, and it was removed.
Please help ensure Israellycool can keep going,
by donating one time or monthly