The Nobel Peace Center in Norway "is the museum about the Nobel Peace Prize. It "also acts as an arena for debate about important social issues."
A few weeks ago, they played host to the vile Roger Waters, where he got to spout off about his pet subjects, including BDS and Israel.
Liv Torres, the center's director, wrote about Water's visit. And her account is rather telling.
(Photo: Johannes Granseth / Nobel Peace Center)

He's an important voice of our time. Not only because of his music, but because he has the courage and strength to not go quietly. He doesn't "go high" when others "go low". When others go low, he shouts louder and clearer. During his concerts, he uses powerful and symbolic special effects, such as balloons, flying pigs and digital art – all planned and executed with perfection. And he spares no one, targeting political groups and religion all the same. Where some of us might have preferred to use different methods, Waters use his artistic freedom exactly the way he wants.

Some people are protesting Waters´ views on U.S. politics. Some don't like him because of his views on Syria and White Helmets, others because of Palestine and Israel. Some argue he's an anti-Semite, and others claim that he's the Palestinians' only hope. And then there are those who voice their disappointment about welcoming Waters to the Nobel Peace Center. Our Center is the public face of the Nobel Peace Prize. Our mandate is to put relevant issues for peace on the agenda, through debates, speeches and events. Do we have to agree with everyone visiting the Nobel Peace Center? No. And there are, without a doubt, people who have visited our Center that I've disagreed with on more points than what I do with Roger Waters. But if we should only accept speakers we agree with, we would be a boring center. More importantly, we wouldn't advance peace-building or engage people on issues that might help us move forward and create positive change. Platforms like ours cannot be used only for those we agree with. That would leave us with a world of uninformed people, meaningless debates or debates where we only shoot at each other from our respective echo chambers on the internet and through social media. We need more than that, and particularly in the current, political climate. Plus, Waters already has a platform developed over decades with millions of listeners. This is our chance to talk to him and ask proper questions.

—

Waters has been angry about the Israeli occupation and the blockade for years. It has nothing to do with anti-Semitism, he says, but he reacts to the actions of the Israelis and Israeli state. His arguments are about basic human rights and why we don´t see the plight of the Palestinians in the same light as other civilians. So, what should other artists do? He thinks it's the responsibility of all artists to take a conscious stand on human rights and occupation, and that the principles we hold should be valid in all settings.

—

We don't see eye to eye on the situation in Syria. He disagrees with my narrative that there was a popular uprising in 2011, he believes that there was no chemical attack in Douma, and that the White Helmets is an international operation created by the West.
While Torres justifies having someone like Waters speak at the Nobel Peace Center because it "advances peace-building" and "engages people on issues that might help us move forward and create positive change." I don't see how. Waters is about hate, divisiveness and demonization.
But clearly Torres appreciates him.
For a start, did she really just describe the special effects, flying pigs and digital art as "powerful" and "executed with perfection"? That means she does not seem to have a problem with this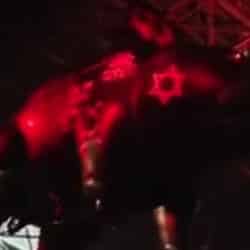 or this
Note also how she describes without comment Waters' views on Israel, the so-called occupation and BDS, but when it comes to his views on Syria, she states "we don't see eye to eye." This seems to imply when it comes to Israel and BDS, she actually agrees with him.
I am sure 1994 Nobel Peace Prize winner Yasser Arafat would approve.
Please help ensure Israellycool can keep going,
by donating one time or monthly