Last week, a number of anti-Israel Facebook pages shared the story of Nada Ibdah, an Arab teenager who was the victim of a hit-and-run accident in Haifa last year. Here is one example.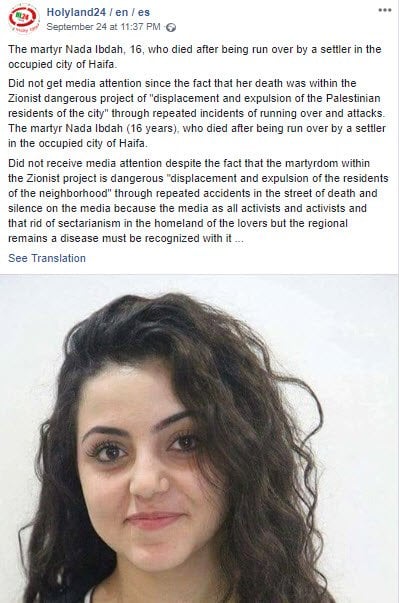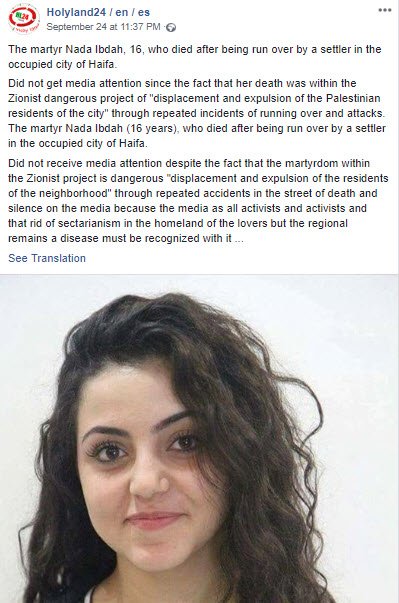 Note:
The claim the incident did not get media attention
The reference to the driver as a "settler" and Haifa as "occupied", even though Haifa is within Israel proper and not the so-called "occupied territories."
The accusation the hit-and-run was deliberate, part of a "Zionist project" to displace and expel "Palestinian residents" of the city (even though the victim was an Israeli-Arab)
The claim the incident did not get media attention, is an outright lie. Here are just some examples of the death being reported in the Israeli media:
As for the ridiculous accusation, the driver was arrested following intense efforts of technical investigators and road accident investigators, as well as technology. Furthermore, even Nada's family did not accuse Israel of some genocidal campaign (translation from same report).
"This is not the first time such an accident has occurred on this road," said the girl's uncle, Khalil Khatib, and called on the municipality to intervene. "It's a difficult and unfortunate case that someone decides to take a life and escape, and if he had stopped and offered help, maybe we would have been somewhere else.
Following the tragic accident, the Haifa municipality installed traffic lights at the crossing Nada was killed.
Yet another example of how the haters are so shameless, continually lying in order to drum up support for their farce of a morally bankrupt cause.
Hat tip: Teresa