Cypriot 'Journalist' Rosie Charalambous Spreads Blood Libel
Last month, Cypriot journalist Rosie Charalambous shared a video of IDF soldiers supposedly executing a palestinian in cold blood. At least that is what she wants everyone to believe.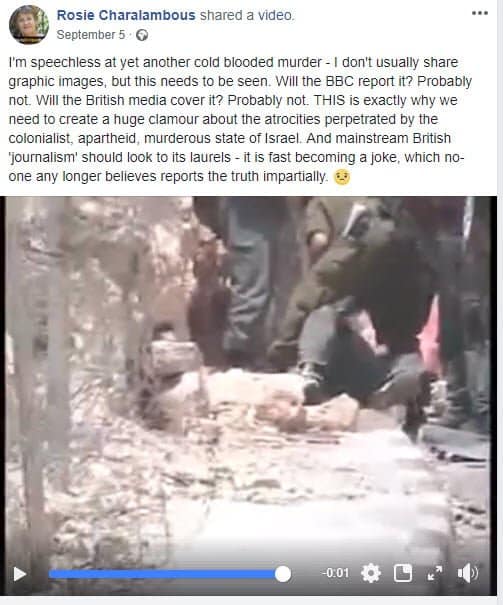 Naturally, it did not take long to realize the video does not pass the smell test.
For a start, the incident did not just happen, as Charalambous would have you believe. It happened over 10 years ago. Don't believe me? Google 'blindfolded Palestinian shot 2008.' Voila!
More importantly, the palestinian, Ashraf Abu Rahma, was shot in the foot with a rubber-coated metal bullet and lived to tell the tale, even getting himself IMDB and Rotten Tomato entries. He continues to be active on Facebook, where he can post photos of himself showing solidarity with PFLP terrorists.
As you can see, he was not seriously hurt, and the soldiers claimed they had intended only to frighten him; not that they acted appropriately, and they were rightly punished by an Israeli military court.
Tellingly, despite being made aware of her mistake (or perhaps she knew all along?), Charalambous never deleted or corrected her post.
So while Charalambous  speaks about mainstream British journalism as "fast becoming a joke, which no-one any longer believes reports the truth impartially", she may as well have been speaking about her own brand of "journalism."
Except if it is a joke, those of us she is deliberately lying about and demonizing are not laughing (hat tip: Mila)