Those of you on social media may have noticed the viral "10 Year Challenge"; participants simply post two images – usually side by side – which were taken at least ten years apart.
Like other viral challenges before it, such as the ALS Ice Bucket Challenge, it has been co-opted by the palestinians.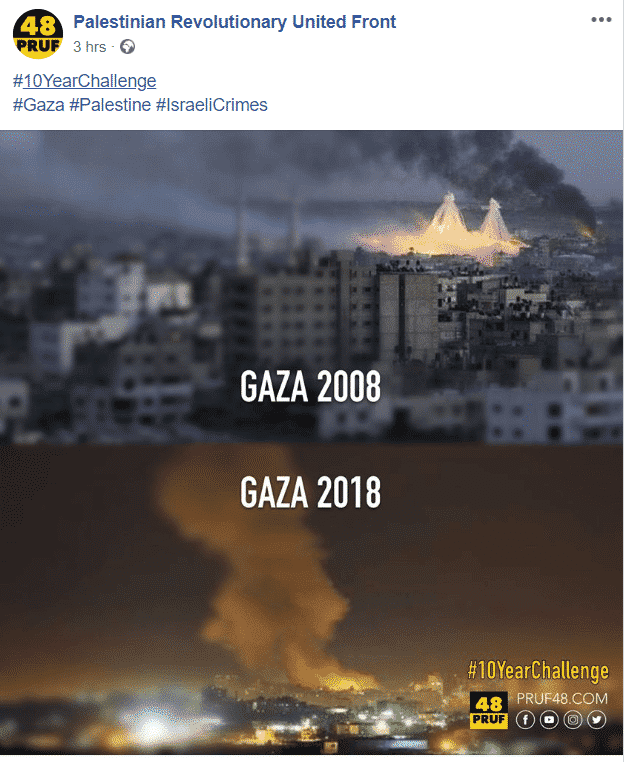 #10yearchallenge #Gaza pic.twitter.com/wGWgMdgMsc

— بھٹو کا قاتل (@KhosaZulkarnain) January 17, 2019
Gaza electricity ⚡️ 10 years challenge, in 2009 we were enjoying 12 hours of electricity and now it is around 4 hours only
تحدي العشر سنوات لحال التيار الكهربائي في قطاع غزة كانت ساعات الوصل ١٢ ساعة باليوم و الان فقط ٤ ساعات #10YearChallenge @RobertoValentUN @HelenClarkNZ pic.twitter.com/OW6pw3cGrN

— Mohamed Abu Shaaban (@mwabushaban) January 16, 2019
Well two can play this game.
Here's hoping for a more peaceful image within the next 10 years. But I am not optimistic.
Please help ensure Israellycool can keep going,
by donating one time or monthly