Iranian Judoka Saeid Mollaei Congratulates Israel's Sagi Muki; Reveals He Was Intimidated Into Throwing Bout
Iranian judoka Saeid Mollaei, who once again threw a bout in order to avoid facing Israel's Sagi Muki in the final of the World Judo Championship, has come clean that he was coerced into it.
How can anyone not feel for him?
Someone who clearly does is Sagi Muki himself.
"I'm very sad about the situation that Mollaei is in..I know how hard an athlete trains, and when an opportunity is taken away because of political reasons, it's very painful. Mollaei is a great person and from what I can see, he is also a great athlete. He doesn't deserve to be treated this way."

—

"But I also dream to face Mollaei, and it doesn't matter who wins. I want to shake his hand, give him a hug. This way, we will not only show honor for each other, but together we can show that sport is above everything else."
And the respect felt between the two judokas is clearly mutual.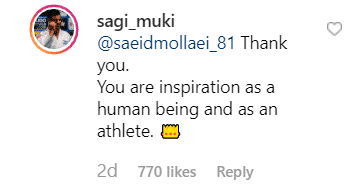 I am guessing we are going to see something like this with Sagi and Saeid in the near future.
Here's hoping they get to battle each other in future judo competitions…and hug it out afterwards.