Iranian 'Trump Assassination' Video Contains Delicious Fail
Via MEMRI:
The Iranian Fars News Agency aired a short video on January 10, 2020, titled "Severe Revenge," dramatizing an Iranian assassination of U.S. President Donald Trump. In the video, Iranian officials are seen planning their revenge for the killing of Qods Force commander Qasem Soleimani. They study a board with a diagram of possible targets, U.S. President Trump is at the head and Israeli PM Netanyahu, Secretary of State Pompeo, Saudi Crown Prince Bin Salman, and Masoud Rajavi, former leader of Mujahedeen-e-Khalq are at the bottom. The Iranian officials say they are "going for the big fish," and one of them says: "We should target their head." In the video, the U.S. Capitol Building is blown up and then the Iranian forces storm the White House, shooting anyone in their sight. President Trump, Secretary of State Pompeo and PM Netanyahu, among others, lie dead on the White House floor. The voice of Iranian Supreme Leader Ayatollah Ali Khamenei is heard in the background, saying: "Severe revenge awaits the criminals whose dirty hands are soiled with his blood."
https://www.facebook.com/memri.org/videos/1356357611212575/
Besides the obviously vile nature of this video, there is something else very notable about it. Something the Iranians would not have intended…and certainly won't like me pointing out.
Here's a huge clue, which pretty much hands you the answer on a platter: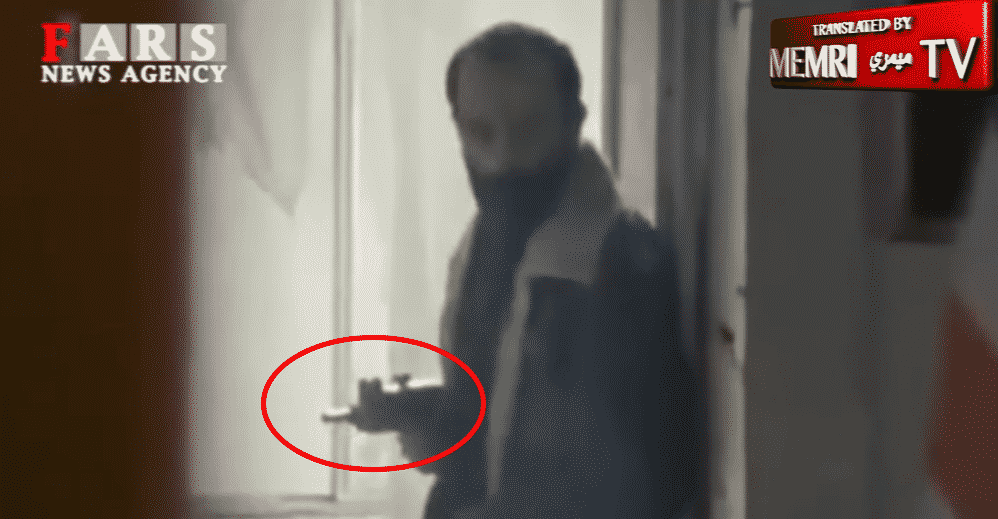 That's an Israeli-made Uzi he is using!
There are BDS fails…and then there is this. It seems even the Iranians cannot live without our inventions.
Hat tip: Ari