Rashida Tlaib Learned One Lesson of Passover, But Not The Main One
Congresswoman Rashida Tlaib tweeted out a Passover greeting for her Jewish friends and neighbors (Zionists – aka 99% of world Jewry – need not apply)
It looks like she learned one lesson from last year's faux pas – no bread loaves this time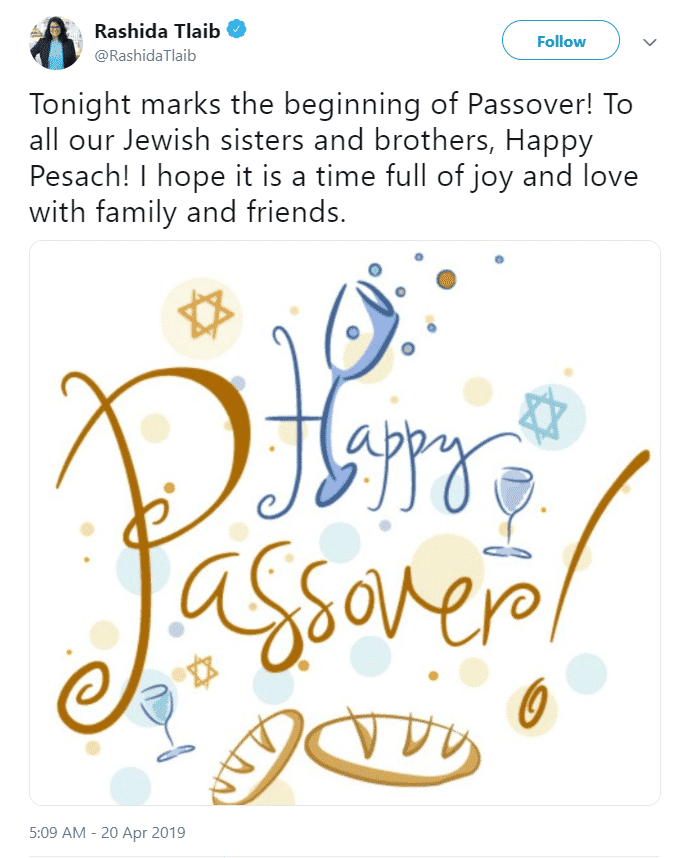 But she has not yet learned the main one: that Passover is all about fulfilling the biblical obligation to recount to our children the story of the Exodus from Egypt, the very purpose of which was to make us into a nation when we received the Torah at Mount Sinai, and bring us into the land of Israel which He promised as our homeland.
In other words,Passover is a reminder as to the land of Israel being the homeland of the Jewish people, as well as our indigenousness to the land – as opposed to those who arrived at the time of the Muslim conquest in the 7th century and later on, like Rashida's relatives.
Update: Not The Onion
.