Jews For Racial & Economic Justice Showcase Embarrassing Lack of Jewish Knowledge
Jews for Racial & Economic Justice is a far Left, Jew-ish organization that loves ragging on Israel, and showing their love for antisemites like Linda Sarsour.
They've just appointed Sophie Ellman-Golan, who as Director of Communications and Digital Outreach at the Women's March, did not speak out strongly enough against the antisemitism within the movement, and continues to canoodle with the likes of Sarsour.
Here is how they announced the appointment: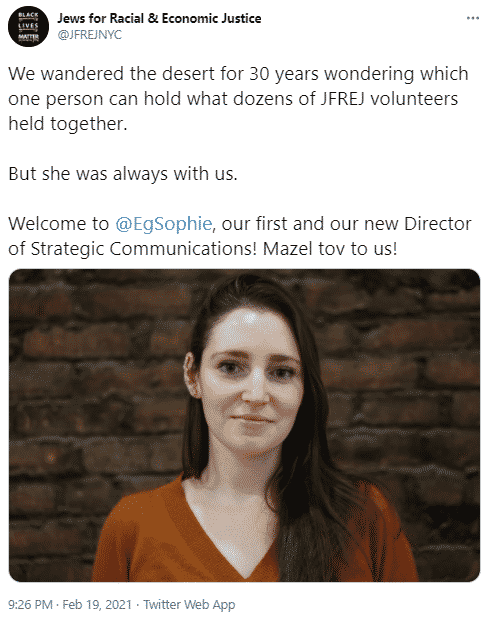 Anyone with the most basic knowledge of Judaism knows that we wandered the desert for 40 years, not 30.
Clearly, Jews for Racial & Economic Justice are as Jewish as a ham sandwich, much like their compatriots at groups like IfNotNow and JVP.
Update: Apparently, the 30 years is meant to represent the fact JFREJ was founded 30 years ago. So perhaps this is not ignorance as much as co-opting Jewish history for PR. I still hold by my ham sandwich comment.