Libel Debunked: Palestinian Bus Driver Assaulted by "Settlers"
Anti-Israel propaganda sites have posted about the assault of a palestinian Arab bus driver at the hands of "settlers."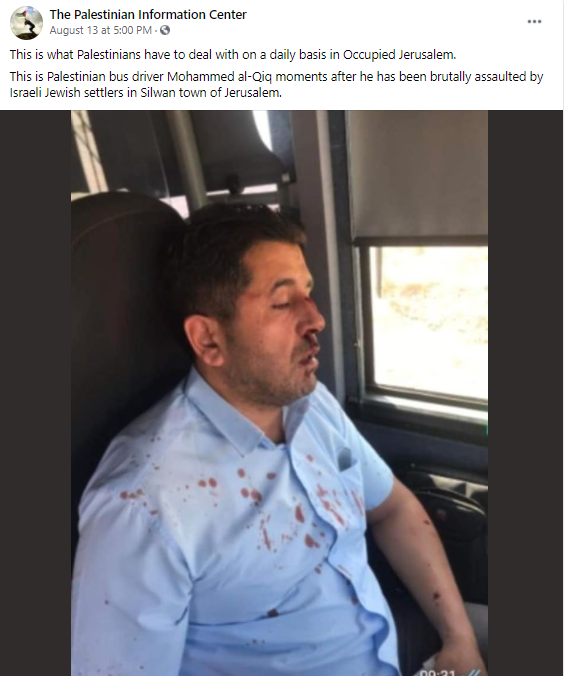 Note the attempt to suggest this is a regular occurrence, even occurring "daily."
While it is true an Arab bus driver was assaulted, he was an Israeli-Arab (not palestinian Arab), and the perpetrator was one unhinged person who did not appreciate being told to mask up (and seems to have been a racist):
A bus driver was violently attacked on Friday by a passenger who refused to wear a face mask, Hebrew-language media reports said.

"The passenger came onto the bus without a mask, and refused the driver's request that he wear a mask while cursing at him. After the driver asked [him] not to swear, the passenger hit the driver with his phone," the Egged Ta'avura bus company's drivers committee said in a statement.

The incident occurred on the 461 bus line from Ariel to Jerusalem, near the entrance to the Shvut Rachel settlement, the Ynet news site reported.

—

Kak said the man started swearing at him because he is Arab. "He told me 'You are an Arab' and cursed. While driving he jumped on me, and luckily did not cause an accident. He endangered my life and the lives of the passengers," he told Ynet.
And why is this significant? Because while these anti-Israel websites are trying to portray all Israeli Jews as violent racists, the vast majority are the exact opposite; in this case, other passengers came to the driver's aid.
"He jumped on me and slammed his cell phone into my head and face. I started to bleed a lot until people came and subdued him," he added.
And of course the driver was evacuated to an Israeli hospital.
Incidentally, this is just one incident of anti-mask whackos attacking bus drivers, with the victims being Arab and Jew alike.