Anti-Zionist-Not-Antisemite of the Day: Judy Al-Midani
Meet Judy Al-Midani.
A student at Albany College of Pharmacy,
she loves resting duck face.
Jews, not so much.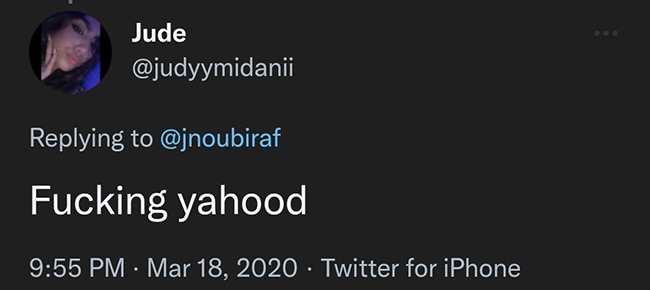 But she wants us to know she is not antisemitic:
(She has since deleted her Twitter account)
Did I mention she used to work for a group called Do Not Hate, which envisions "a society where every person views and treats each other with dignity and comes together to promote shared values of their communities and the world as a whole"?
I said "used to":
And if you thought that was awkward…
Judy, thanks for playing anti-Zionist-Not-Antisemite. Unfortunately, you lose!
Hat tip: Stop Antisemitism