Hulk Artist Joe Bennett Faces Antisemitism Criticism. Again.
Francesc Fort, CC BY-SA 4.0, via Wikimedia Commons
Screen Rant reports on the latest antisemitism scandal surrounding Marvel comic artist, Joe Bennett:
Benedito José Nascimento, better known in the comic community as Joe Bennett, is a Brazilian comic artist who has lately been working with Marvel. He has most recently provided art on Immortal Hulk – which he faced criticism of antisemitism for earlier this year.

—

The new artwork in question, from 2017, features Jair Bolsonaro – president of Brazil – decapitating political opposition. His political opponents are caricatured with large noses, big teeth, and pointed ears. They have rodent-like characteristics and are being cut down, while another figure is depicted as a vampire – complete with fangs, wings, and a vintage hairstyle. Bolsonaro is depicted in golden armor, a sword raised above his head as he rides a white horse – similar to how knights have been depicted. However, this image is less than gallant. The image has now been circulating and has gotten the attention of comic creators within the community, including Immortal Hulk writer Al Ewing.
—

This past February, Bennett drew a panel in Immortal Hulk, which featured the Star of David underneath backward lettering that read "Cronemberg Jewer". Bennett responded on Facebook with an apology and an explanation regarding the incident. He claimed it was a genuine mistake during an attempt to pay homage to David Cronenberg, the famous horror film director. He misspelled both "Jewelry" and "Cronenberg" by mistake as they were written backwards and reflected. Paying homage to horror directors is something the Hulk artist has done in his work before, but the finding of this new work calls this occurrence into question again. Jewish people have long been offensively depicted in the exact same manner that Bennett's political work does. Even if the work is older and he has since learned from the events of Immortal Hulk #43 being recalled, there are major problems with the perpetuation of Jewish stereotypes.
Here's the 2017 Bennett artwork in question:
As you can see, some of those depictions are straight out of the antisemitic caricature manual. I am sure the shape on the rope being held by the character on the bottom left, as well as the shape on the rock(?) at the bottom right do not look like Stars of David by coincidence.
And here is the earlier artwork he claimed was a genuine mistake:
And now flipped: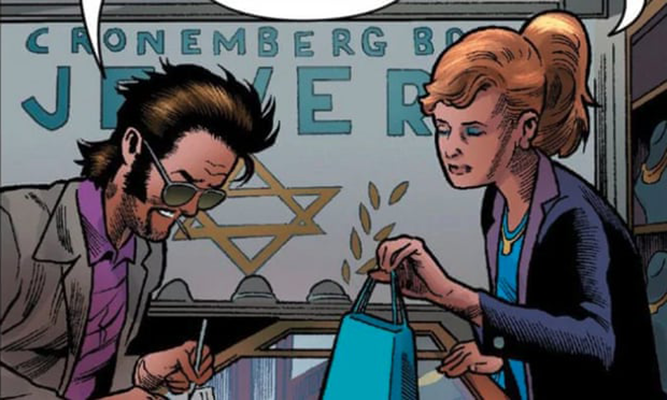 Note the Star of David here too. This was no genuine mistake.
What is it about The Hulk and the Jews?
Update: At least Hulk actors Ed Norton and Lou Ferrigno are friends of the Jews.