New "Accolade-Winning" Video Game Glorifies Murdering Israelis
The Jerusalem Post reports about a hugely disturbing new video game, which incites terrorism against Israelis.
A new video game headed for Steam will see players take part in the Israeli-Palestinian Conflict – from the Palestinian perspective.

Titled Fursan al-Aqsa: The Knights of the Al-Aqsa Mosque, the game is developed by Nidal Nijm, a Brazilian resident of Palestinian origin. 

The game promises to let players take the role of Palestinian freedom fighters and break what it calls "the cliché of portraying Arabs as Terrorists."

"You will play in missions across Palestine with many objectives to accomplish, epic battles, powerful guns, vehicles to drive, and more," the game's page on Steam notes.

The game is currently slated for a December 2021 release, and user reviews are currently not available on the platform. However, a free playable demo is available for download.

The game's story follows protagonist Ahmad al-Falastini, who was "unjustly tortured and jailed" by the IDF for five years and who lost his family in an IDF airstrike, as noted on the Fursan Al-Aqsa website.

Now free from prison, Falastini is out for revenge and to retake his homeland by joining the titular Fursan Al-Aqsa, a new Palestinian resistance movement.

The story and gameplay combined promise a high-octane action experience, with the story taking place over adrenaline-packed missions on the ground, sea and sky. It will feature a wide variety of guns, settings, vehicles and even boss fights. 

—

"My father is a former Fatah fighter. He immigrated to Brazil after the Israeli invasion of Lebanon in 1982," he explained. "I have no connection to any political or military party, group or organization, I just lived with my father, his whole history of struggle and the resistance of the Palestinian people. And it was my father who encouraged me to get into video games since I was a little boy, and he told me to study and learn so that one day I could produce a video game about the Palestinian Resistance."

But for Nijm, the game is also about changing perspectives.

"Since I was little I've always seen that here in the West, in movies and video games, Arabs were portrayed as terrorists, so I always wanted to change that image. And as I've always liked games since I was little, I decided to create this game of mine to show that Arabs are not terrorists, but they fight for the freedom of their people," he said.
Here's the trailer of for the game. I dunno, it seems Nijm does a lousy job of showing Arabs who are not terrorists:
In response to a comment under the Youtube trailer suggesting the main character should use human shields for realism purposes, Nijm claims to be against "acts of violence against civilians"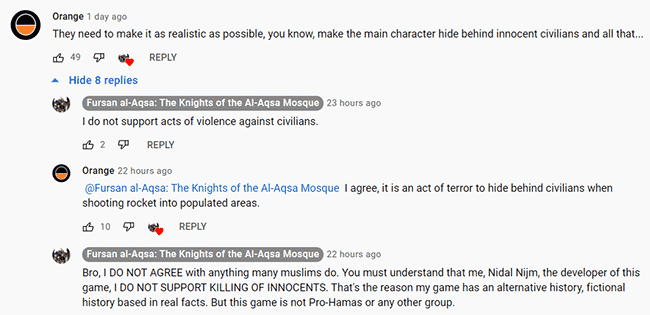 He's full of it. Among the sick scenes of the game as shown in the trailer is one depicting the terrorist shooting while wearing a baby on his back!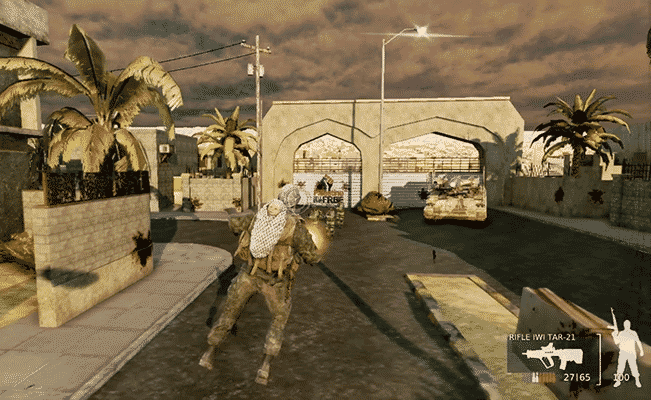 As disturbing as that is, know which part really sent chills down my spine?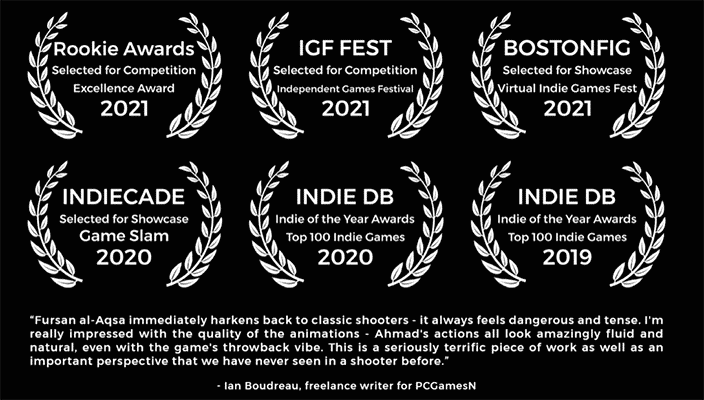 Evil has become so banal to way too many. Especially when that evil is perpetrated against Jews.