Disturbing Reporting on Disturbed Former UCLA Lecturer Matthew Harris
The Washington Post reports on the disturbing case of former UCLA professor Matthew Harris:
All in-person classes at the University of California at Los Angeles were moved online Tuesday after a former lecturer made what were described as "specific threats" to members of the philosophy department in an 800-page screed and sent a video referring to a mass shooting.

UCLA confirmed in a letter to students that police in Colorado arrested an "individual who made threats against some members of our UCLA community." Matthew Harris, a former philosophy lecturer and postdoctoral fellow, was detained in Boulder, Colo., after a nearly three-hour standoff with authorities, police told reporters.

The Daily Bruin, the student newspaper, reported that Harris sent several messages to some faculty and students Monday that included a memo outlining his threats and a YouTube video titled, "UCLA Philosophy (Mass Shooting)." The video included footage from the 2017 mass shooting at a Las Vegas music festival that killed about 60 people and injured hundreds more in what remains the deadliest mass shooting in U.S. history.

The university acknowledged the seriousness of the threats by announcing that all in-person classes Tuesday would be held remotely "out of an abundance of caution." University officials said they were "greatly relieved" that Harris was taken into custody.

"While the campus will continue with plans to keep instruction remote today, with this development, we will return to in-person instruction tomorrow," officials wrote.

—

Last year, a University of California at Irvine professor got a restraining order against Harris after he threatened in an email to "hunt" the professor and "put bullets in her skull," the Associated Press reported Tuesday evening.

The threats at UCLA come after at least eight historically Black colleges and universities received bomb threats this week, prompting campus closures and investigations.

Harris joined UCLA as a postdoctoral fellow in 2019 after he finished his dissertation at Duke University, according to a newsletter from the philosophy department. The spring 2019 newsletter highlighted how Harris "works on philosophy of race, personal identity, and related issues in philosophy of mind." Harris gave lectures in UCLA courses during his tenure, including a class called "Philosophy of Race," reported the student newspaper.

Students repeatedly described him as "unprofessional" on Bruinwalk, a forum where they can leave reviews of faculty members. Another student wrote that Harris's class was their least favorite "ever." A different reviewer said Harris had changed a classmate's grade 43 times after an academic quarter.

Those concerns came to the forefront last year when Harris was placed on leave while officials investigated reports that the lecturer sent a video containing pornographic content to a student, reported the Daily Bruin. His postdoctoral status was set to expire in June 2021 for reasons unrelated to the investigation.

Harris posted much of his frustration on his YouTube account, which has since been taken down. Most of the 300 videos posted to his account were published Monday night, according to the Los Angeles Times.

A video posted Sunday — "UCLA Philosophy (Mass Shooting)" — featured not just clips from the Las Vegas mass shooting but also footage from "Zero Day," a 2003 movie that is loosely based on the Columbine High School mass shooting in 1999, the Times reported.

YouTube spokesman Jack Malon told The Washington Post that the account was terminated for violating the platform's hate speech policy, "which prohibits content that dehumanizes or incites violence towards individuals based on their nationality or religion."

A profanity-laden 800-page screed shared by Harris, an outline he described as being "dedicated to domestic terrorism and violence," refers to race and calls for "death to America," according to Southern California-based news station KTLA.

"Da war is comin," he allegedly wrote.
Reading this, you'd be forgiven for believing that Harris was a White Supremacist, especially when they state
The threats at UCLA come after at least eight historically Black colleges and universities received bomb threats this week, prompting campus closures and investigations.
But if you look at some other reports like this one, you'll discover this is Matthew Harris: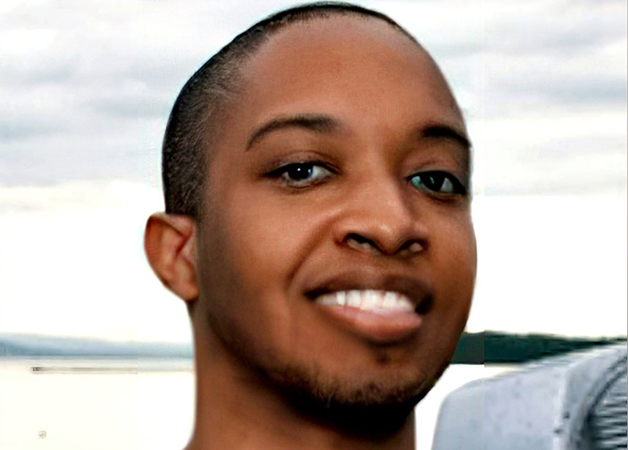 If I did not know any better, I'd say that the Washington Post has an agenda. Perhaps they subscribe to the Whoopi Goldberg theory of racism or something.
But their reporting of this – and indeed that of many other media outlets – is even more egregious. You see, there is another detail missing.
The police search for Harris began after he sent his former students an email early Sunday that was full of slurs against Jewish and East Asian people, according to the Los Angeles Times. The email included links to what police termed a manifesto and videos, the Times reported, including one titled "UCLA PHILOSOPHY (MASS SHOOTING)."
Why did the Washington Post and others not see it fit to mention this?
And they might not be the only ones to find this detail irrelevant: on Reddit, a student has posted a screenshot of a letter sent to the philosophy department, commenting "Not sure why UCLA hasn't notified the student body."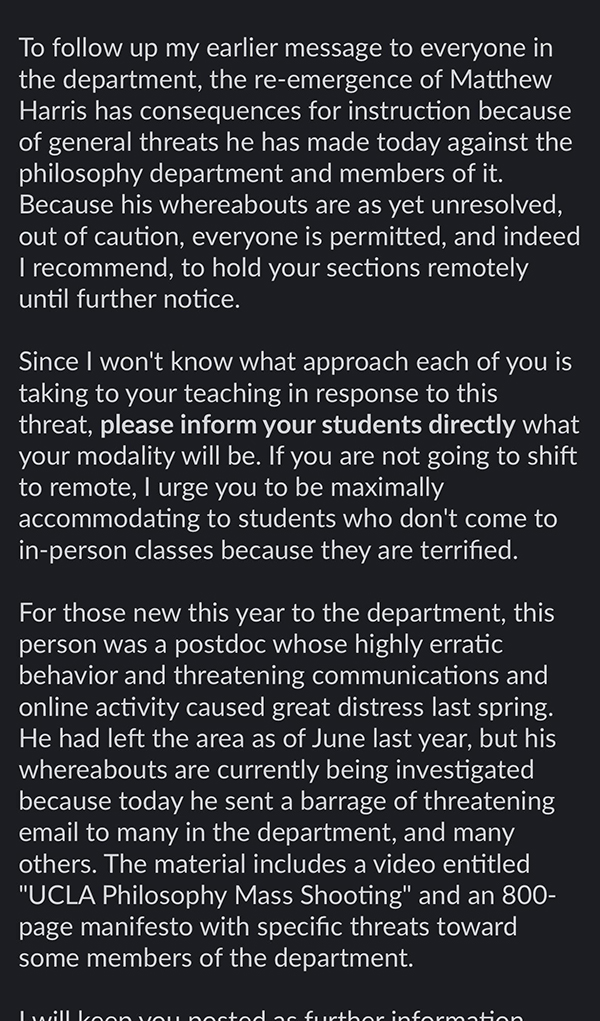 Why not mention he is potentially an even greater threat to Jewish and Asian students?
Meanwhile, serious questions are going to be asked of UCLA, especially considering students have complained about Harris' behavior – including the distribution of pornography – for quite a while. Not to mention of YouTube, who only just suspended his channel.