Jeremy Corbyn Pulls Out of Terror-Linked Webinar
Former Labour leader and current antisemite Jeremy Corbyn was to participate in a webinar demanding Arab states halt 'normalisation' of relations with Israel, and featuring extremist figures affiliated with the Muslim Brotherhood.
The Feb. 12 webinar—titled "2022, The Year to Combat Normalization: We Will Resist the Entity and Protect the Homeland"—is being organized by the Anti-Zionism Coordination (AZC) group, also known as Anti-Zionism and Normalization

The AZC is an umbrella organization composed of Muslim Brotherhood-affiliated organizations around the Arab world, from Jordan and Morocco to Sudan and Algeria. Several members of its "Supreme Committee" are also members of the Muslim Brotherhood branches in their respective countries, including Mahmoud Musa from Lebanon, Moath Khawaldeh of Jordan, Naser Al-Fadalah of Bahrain and Hamoud Kebour of Algeria.

—

The Muslim Brotherhood is deemed a terrorist organization by the governments of Bahrain, Egypt, Saudi Arabia and the United Arab Emirates. The Palestinian terror group Hamas is an offshoot of the Muslim Brotherhood.
If that wasn't bad enough:
Among the online rally's listed sponsors is the Boycott Campaign Palestine (BCP), which is led by Basem Naim, a former Hamas minister in Gaza.

Another is the Forum of Preachers of Palestine, which is led by Omar Foura, a senior figure in Palestinian Islamic Jihad. Both Hamas and PIJ are organisations proscribed by the UK Government.

Another sponsor is the Al-Quds International Institute, which has been proscribed as a terrorist organisation by the United States.
If anything, the poster publicizing the event would make for a pretty cool dartboard.
Alas, after this made the news, it seems Corbyn did what his father should have; he pulled out.
When the allegations were put to Mr Corbyn by MailOnline this afternoon, a spokeswoman said: 'I can confirm that Jeremy Corbyn is not speaking at this event.

'Jeremy Corbyn receives invitations from a myriad of individuals and organisations. This invitation was declined earlier this week.'
Note how his spokeswoman does not deny that he initially agreed to appear; she merely says the invite was declined earlier in the week.
The AZC seems to have first already publicized the event on Sunday, with Corbyn featuring as a speaker:
They did so again on Tuesday, this time with Corbyn not just showing as a speaker, but with a specific time-slot to speak: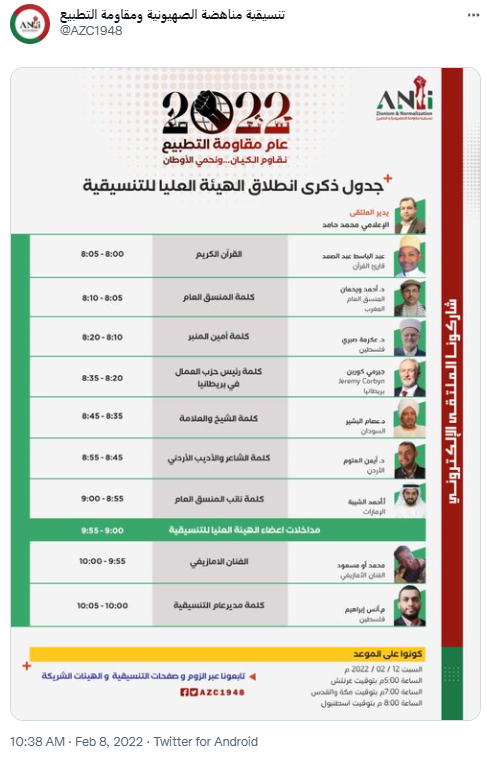 This suggests he very much had agreed to speak.
Then, some time during the week, Corbyn went from this:
to this:
I'm not sure why, but his successor certainly has a point:
Last night his successor as Labour leader Sir Keir Starmer launched an astonishing attack, accusing him and his allies of siding with Britain's enemies.
Update: Oh my.