Demolition of an Illegally Built Palestinian Home…In Bel Air!
Back in October, I posted how Israel-hating celebrity real estate developer Mohamed Hadid was ordered to do community service, pay fines and put forward a plan to stabilize a Bel-Air hillside after pleading no contest to criminal charges tied to his mansion in the hills of Bel-Air.
At the time, his lawyer said
"We're interested in one thing and one thing only … bringing this building into compliance…I can assure you that when this building is complete, it will be one of the most beautiful homes in Bel-Air, if not the country."
About that assurance..
Mohamed Hadid's controversial Bel-Air mansion is being demolished.

Photos taken this week show the beginnings of the process of dismantling the illegally constructed 30,000-square-foot behemoth, following a judge's 2019 ruling the cliffside structure was a "danger to the public."

The 73-year-old real estate developer and father of supermodels Gigi and Bella purchased the property in 2011 and gained approval to build a smaller house on the site. Instead, he began illegally constructing a 30,000-square-foot mansion without the correct permits, according to Dirt.

In 2017, he plead no contest to criminal charges and was ordered to do 200 hours of community service and pay $3,000 in fines as well as other hefty fees, the Los Angeles Times reported.

At the time, Hadid was also ordered to organize a plan to help "stabilize" the hillside on which the property was built after neighbors expressed concern that the size of the mansion was posing a possible danger.

He was later hit with a civil lawsuit from multiple neighbors in 2018 for not sticking to the terms of that deal. The neighbors were eventually awarded nearly $3 million.

In 2019, Los Angeles County Superior Court Judge Craig D. Karlan ordered the mansion to be demolished, detailing that the structure put his neighbors at "legitimate risk of suffering damage and harm to their homes." 

The property was sold at auction in December 2021 for $5 million to developer Sahara Construction Co., which agreed to pay to have the home demolished within nine months of the sale.
A day after this news came out, Hadid posted the below to Instagram, which seems to blame one of his neighbors for his legal battles with the house, but at the same time includes a screenshot from this report stating Hadid won a court case regarding it: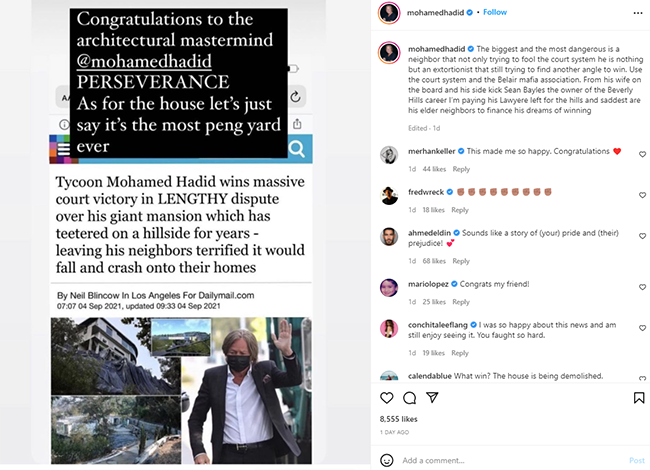 This post seems to have confused the hell out of all and sundry, with most of his supporters congratulating him for this "victory" from September, without realizing the house is being demolished.
I guess if the Israelis were demolishing it, he and his kids would be all over the story.
Hat tip: Eileen