Palestinians Vandalize Holy Site, Propagandists Claim We Did It
Remember how Golda Meir once famously remarked "Peace will come when the Arabs will love their children more than they hate us."?
You can interchange the word "children" with "holy sites":
Prime Minister Naftali Bennett joined the condemnation on Sunday of the overnight arson and vandalism of Joseph's Tomb near the West Bank city of Nablus, saying he was appalled by the images of the damage to the shrine.

—

Around 100 Palestinians broke into the site overnight, rioted and set it ablaze, before they were dispersed by Palestinian security forces and smashed objects inside, Israel Defense Forces spokesman Brig. Gen. Ran Kochav said.

—

Footage showed dozens of Palestinians entering the site and smashing objects inside. The tomb is venerated by Jews, Christians and Muslims, and has often been a flashpoint for violence.

Some Jews believe the biblical Joseph is buried in the tomb, while Muslims say a sheikh is buried there. The army escorts Jewish worshippers to the site several times a year, in coordination with Palestinian security forces.
Earlier, Defense Minister Benny Gantz said the vandalism was a "grave event," and said he had sent a "strong message" to the Palestinian Authority about the attack on the shrine.

"The vandalism of Joseph's Tomb is a grave event and a serious violation of freedom of worship in one of the holiest places for every Jew. It violates the feelings of the entire Jewish nation, especially when it occurs during the Muslim holy month," Gantz said in a statement, which he released in Hebrew, Arabic and English.
Of course, not a word of condemnation from the Woke and other people who pretend to care about human rights and all good things in the world.
Meanwhile, some Israel-haters have taken a different approach: falsely alleging it was not their heroes responsible for this heinous desecration of a holy site but those nasty Jooooooos: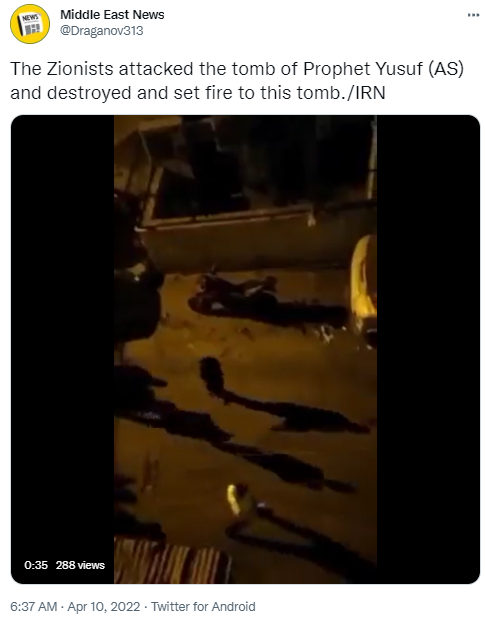 They have no shame and you really have to be evil or willfully ignorant to support their corrupt cause.
Hat tip: Uri