Haters Seethe Over VP Kamala Harris' Choice of Seder Wine
US Vice President Kamala Harris and Second Gentleman Doug Emhoff just held at a Seder at their residence, with both of them posting photos of it to Twitter.
It was an easy-to-miss detail in Second Hubby's that triggered the Israel-haters.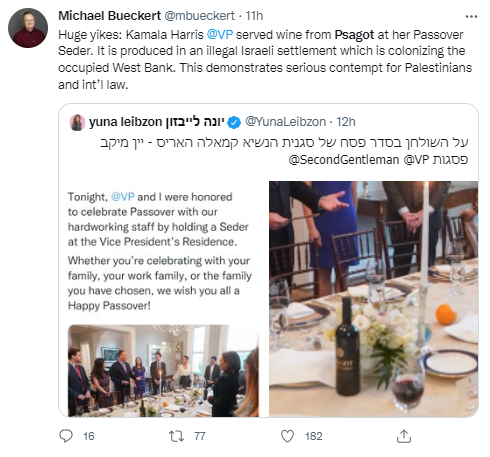 And my favorite:
In the story of Naboth, King Ahab had Naboth executed on false pretenses, just so he could take his vineyard. As punishment, Ahab's house was destroyed during his son's reign. Clearly, Zogby is somehow suggesting we stole the land upon which the Psagot vineyards are located. Yet by invoking the Book of Kings – which deal with the Jewish kings, well before Muslims were even a thing, let alone set foot in the land – he is inadvertently acknowledging that these lands were ours before they fell in to the hands of the Arabs.
For the record, I highly recommend Psagot wine, it is truly delicious.
Almost as delicious to me as the sight of these haters getting their panties into a knot.
Update: Obama might just be saved by the camera angle here: