IfNotNow's Vile Response to Terror Attack Still Too Much for the Haters
Yesterday, three innocent men and fathers – Yonatan Havakuk, Boaz Gol and Oren Ben Yiftah – were murdered by ax-wielding terrorists in the ultra-Orthodox city of Elad, leaving behind 16 children. Three others were seriously injured.
This is the statement that Israel-haters IfNotNow put out in response: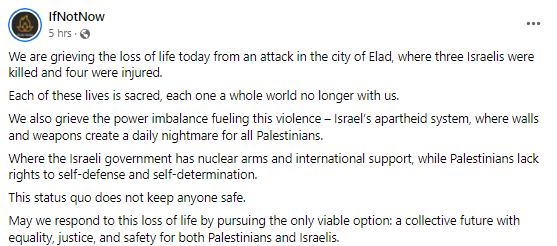 Note how they refer to the cold-blooded murder of these men as a "loss of life", not murder, before going on to essentially justify it.
Remember, these are the same people known for organizing a public reading of the mourner's prayer for Hamas terrorists killed in Gaza. I somehow doubt they will be doing the same for these precious souls murdered by terrorists.
What is fueling these terror attacks is not any "power imbalance" or non-existent "apartheid system." It is an intense hatred of Jews promoted by their education system and leaders, and encouraged by the IfNotNows of the world. An intense hatred also displayed by IfNotNow followers, for whom this statement was still too much to bear: