Antisemite Ali Abunimah's Meltdown Over Unilever Decision
"Abumination" Ali Abunimah has had a meltdown over Unilever's decision to undermine child company Ben & Jerry's antisemitic decision to stop selling in Judea and Samaria. So much so, he has tried to spin it still as a defeat for Israel.
Israel's claim it defeated Ben & Jerry's melts under scrutiny
Israel claims it has forced a reversal of the principled decision last year by Ben & Jerry's to stop selling its ice cream in illegal settlement colonies in the occupied West Bank.

Unilever, the parent company of Ben & Jerry's, announced Tuesday that it has sold the Ben & Jerry's brand in Israel to its Israeli licensee, AQP.

AQP has vowed to keep selling the ice cream in the occupied West Bank with the Ben & Jerry's name in Hebrew and Arabic, prompting cries of victory from Israeli officials.

However, the ice cream will be sold against the explicit wishes of Ben & Jerry's, which will earn no income from sales in Israel.

"We are aware of the Unilever announcement. While our parent company has taken this decision, we do not agree with it," Ben & Jerry's wrote to The Electronic Intifada on Wednesday.

"Unilever's arrangement means Ben & Jerry's in Israel will be owned and operated by AQP. Our company will no longer profit from Ben & Jerry's in Israel," the Vermont-based firm added.

"We continue to believe it is inconsistent with Ben & Jerry's values for our ice cream to be sold in the Occupied Palestinian Territory."

What appears to have happened is that Unilever went over the ice cream maker's head in an effort to appease Israel and its lobby.

—

Unilever announced on Tuesday that it had "sold its Ben & Jerry's business interests in Israel to Avi Zinger, the owner of American Quality Products Ltd (AQP)," the current Israeli licensee for Ben & Jerry's.

"The new arrangement means Ben & Jerry's will be sold under its Hebrew and Arabic names throughout Israel and the West Bank under the full ownership of its current licensee," Unilever added.

Unilever's London press office confirmed to The Electronic Intifada that "the brand in Israel will continue to have the same design look and feel as today."

"The brand name will be in Hebrew and Arabic. It will be exactly the same ice cream as consumers enjoy today," the company added.

—

The Brandeis Center said Wednesday that Unilever's decision to sell its interests in Israel to Avi Zinger settles that lawsuit and marks a "major victory" against the Palestinian led BDS – boycott, divestment and sanctions – movement.

"The settlement prevents Ben & Jerry's from boycotting Israel and ensures that Zinger will continue selling Ben & Jerry's ice cream throughout Israel and the West Bank," the Brandeis Center claimed.

But that's a stretch, since there is no indication that Ben & Jerry's independent board reversed its decision. This looks simply like a strong-arm tactic by Unilever, which never expressed support for Ben & Jerry's move in the first place.
It is entirely irrelevant that Ben & Jerry's is boycotting Israel (actually, parts of Israel, but I digress). The fact remains that Unilever unequivocally denounced BDS and intimated it is antisemitic:
Unilever rejects completely and repudiates unequivocally any form of discrimination or intolerance. Antisemitism has no place in any society. We have never expressed any support for the Boycott Divestment Sanctions (BDS) movement and have no intention of changing that position.
Furthermore, their decision enables residents of Judea and Samaria to also enjoy the ice cream. So who cares that Ben & Jerry's are unhappy about it? I am enjoying the fact we get to eat their ice cream and they don't profit from it!
Abunimah is so consumed with hate, he doesn't even realize how ridiculous he sounds when he mentions the brand name in Israel will be in both Hebrew and Arabic. This is an acknowledgement that the Ben & Jerry's boycott was going to harm Arabs as well as Jews and – more than that – makes his cries of apartheid even more lame.
So while his fellow antisemite Asa Winstanley also tries to spin it as a self-own by Israel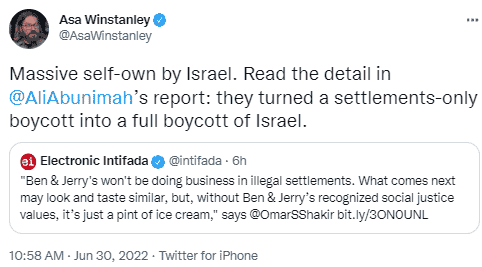 the only self-own is Abunimah's.