Cori Bush Friend Neveen Ayesh's Unconvincing Antisemitism Denial
A few days ago, Canary Mission released this video showing the antisemitism of Cori Bush friend Neveen Ayesh:
Ayesh responded on Twitter, claiming she was young and reacting in the heat of the moment to "chaos back home":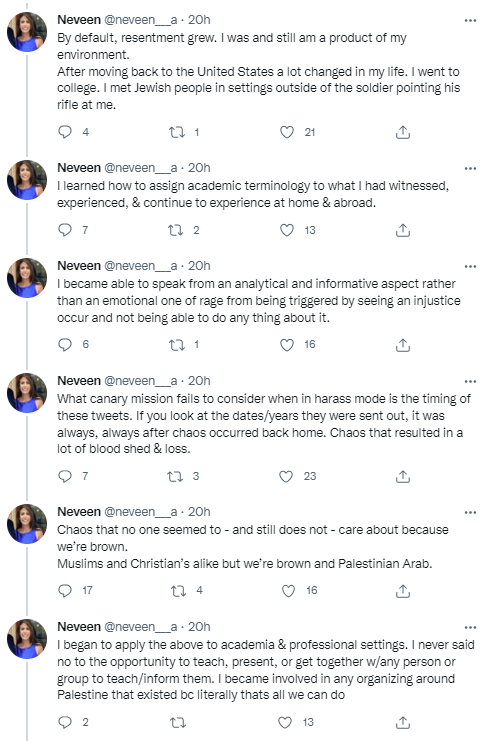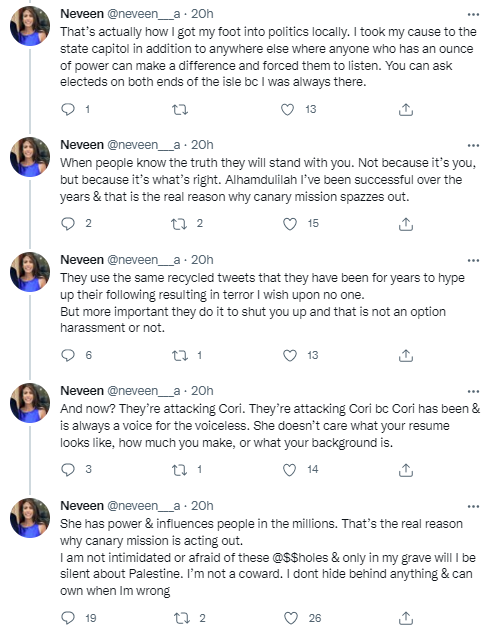 Ayesh's explanation seems disingenuous.
Ayesh has had plenty of time to apologize for her tweets. Instead, she simply attacked Canary Mission for years
Canary Mission exposed Ayesh's tweets over 5 years ago. When her antisemitic, terror-supporting tweets were exposed, Ayesh did not apologize nor take responsibility for her hurtful words. She instead attacked and mocked Canary Mission, even claiming they fabricated her tweets:
She now seems to be apologizing for the tweets only because Cori Bush has been drawn into this.
Ayesh still tweets things that are pro-terror and antisemitic
Less than 6 months ago, Ayesh implied that Hamas terrorism is "armed resistance."
And just today, she denied Jewish genealogy and ties to the land of Israel, even calling us all White, another favorite of many antisemites:
So much for being young and reacting in the heat of the moment to "chaos back home."
Ayesh confirmed her antisemitism in direct messages to 'Rabbi Linda'
Parody account 'Rabbi Linda' has struck again, convincing Ayesh that she is a real 'woke' Rabbi living in Gaza:
And it gets worse. 'Rabbi Linda' managed to get Ayesh to direct message with her:
The #Zionists are forcing @neveen___a to "apologize" for allegedly tweeting Jews should die, just because she dated @RobertsforSTL who's running against @CoriBush. 😡😡😡🇵🇸❤️🔥 pic.twitter.com/rCQY4STCd4

— Rabbi Linda Goldstein 🇵🇸 (@RabbiLindaGold1) July 14, 2022
"Yahood" is the Arabic word for "Jews", one to which Ayesh did not object. In other words, she implicitly acknowledges her problem is with Jews. Not only that, but 'Rabbi Linda's' comment that the yahood "are always making us apologize" is an allusion to the Holocaust. Again, Ayesh does not object to this.
Update: Steve Roberts, Cori Bush's opponent, agrees:
Antisemitism is a serious national issue, and it's one of the most important issues at stake in the race for Missouri's 1st congressional district. As a state senator and congressional candidate, and more importantly as an American, I stand unequivocally against antisemitism and in support of our great ally, Israel. My position will never change. Period.

It has now been reported that my opponent, Cori Bush, has the ongoing financial and electoral support of Neveen Ayesh and other activists who openly call for antisemitic terrorism and violence against Jews and the State of Israel. Cori's antisemitic friends will be hosting another fundraiser for her this Saturday. Cori Bush is being paid by hate and she knows it.

I briefly dated Neveen Ayesh some years ago, before I knew of her extreme political beliefs. After a period of getting to know each other, her views became clear to me and – unlike Cori Bush – I chose to reject hate and walk away. I recognized that because I had been uninformed, I was vulnerable. As a Black man who has personally experienced bigotry, I realized that to truly be a community leader who stands for justice and against hate, I needed to learn much more about antisemitism and become active in the fight against it.

I educated myself about antisemitism and met with Jewish leaders and institutions to better understand their challenges and needs. This process helped me prepare to properly represent the 1st congressional district, unlike Cori Bush, who refuses to dialog with Jewish community institutions like the St. Louis Jewish Light newspaper. As a part of my congressional campaign, I have staked out very strong positions against antisemitism and in support of Israel. The overwhelming majority of residents in the 1st district join me in standing against all forms of bigotry and racism. I knew that this would draw the anger of Bush and her antisemitic donor friends, but their attacks will never stop me from doing the right thing.

Cori Bush has long known that many of her friends and supporters are anti-Jewish bigots. Instead of walking away she decided to cash their checks and hop on their payroll. The extent of Bush's political and financial relationships with antisemites is not yet clear, but I have now directed my research staff to uncover the truth. To protect the good people of the 1st district, this is an issue that needs to be examined in full public view.

My response to encountering antisemitism was to reject it. Cori Bush's response is to embrace it. This is just one of the many reasons why I am running to unseat her.