'Soul Khan' Noah Weston: Israellycool Partly Responsible For Me Abandoning Campaign for District Leader
Remember 'Soul Khan' Noah Weston, the rapper whose antisemitic tweets I exposed last year?
Weston has been active recently to remind us what a piece of work he is; first with showing off his "Globalize the Intifada" shirt glorifying violence
and then making fun of the appearance of a young, proud Jew (while simultaneously making fun of the idea of antisemitic blood libels):
At this point, I could not resist:
This seemed to trigger Weston, who thought it was somehow a good idea to go after my appearance:
It wasn't.
After some back-and-forth, Weston blocked me. And this is where it gets interesting.
In a correspondence with Anna Rajagopal – the fellow cyberbully who lives in a glass house but loves to throw stones by making fun of the appearance of proud Jews – Weston revealed some good news (for me at least):
Earlier this year, Weston ran for district leader of AD 46.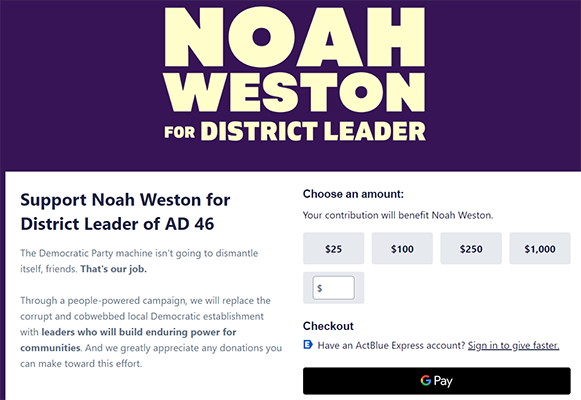 By June 1st, Weston abandoned the campaign, blaming it at least partly on "a defamatory campaign to smear me as antisemitic."
Now we know who he thinks is responsible for that!
This is further vindication that proactively going after these vile haters and using their own words against them is an effective approach.