Haters Gloat Over Abuse Received By Israeli Journalists at World Cup
In yesterday's post about the Iranian football fans celebrating with the Israeli journalist, I mentioned how "there have also been quite a few instances of people dissing Israeli journalists once their nationality has been made known."
Al Jazeera English producer Linah Alsaafin (not to be confused with Leni Riefenstahl) seems so thrilled by it, she made a Twitter thread highlighting all the times it has (so far) happened.
And others could not hide their glee, including Elizabeth Tsurkov, "a Research Fellow at the Forum for Regional Thinking, an Israeli-Palestinian think-tank," whose Twitter profile claims she is "passionate about human rights":

Ami Kaufman, Producer/Writer for CNN's 'Amanpour.':
and antisemites like Suhair Nafal: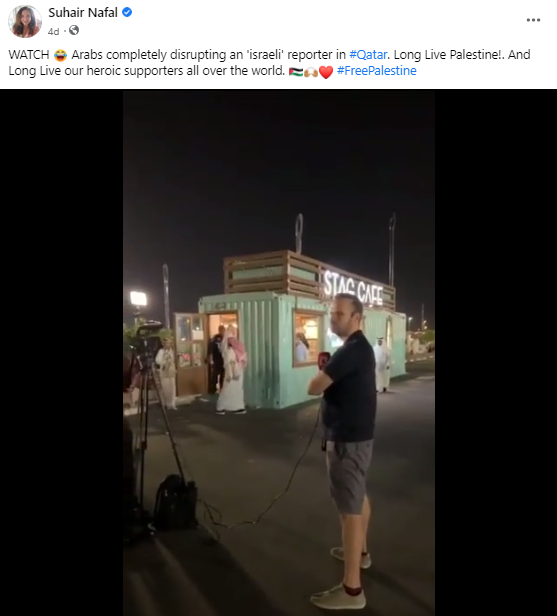 The fact that the Israeli journalists have been reaching out to the Arab and Muslim fans is just another demonstration of our want for peace and rapprochement, as the Abraham Accords has already shown.
The reactions of the fans rebuffing them, as well as the reactions of those gloating about it, are yet another demonstration of how peace is not on their minds – just hate.