CJ Werleman Again Lying About His "Redemption From Islamophobia" Story
I have exposed antisemitic "journalist" CJ Werleman's constant lies on many occasions, including the one about how he supposedly became a reformed Islamophobe. As I pointed out in that post, he keeps changing his story, and the dates he provides do not seem to match the reality of his supposed epiphany.
Werleman has just come out with a video again describing his supposed process of redemption. And not surprisingly, things still do not add up.
Werleman describes his "first come to Muhammad" moment as being in 2009, when he read Mahmood Mamdani's book "Good Muslim Bad Muslim", that supposedly "unpacked many of the lies the mainstream media was telling about Islam during the early years of the war on terror." He claims the book "ignited a fire in him", leading to him studying the Quran and Islam.
The fact is, Werleman has never once mentioned this book – so pivotal to his "enlightenment" – on any of his social media accounts. And he has previously credited research on his own book "Koran Curious" for starting his study of Islam, not this book.
Not only that, but Werleman claims he saw the light in 2009 (after reading the book), and has spent "much of the past 14 years" countering Islamophobia.
I again call BS: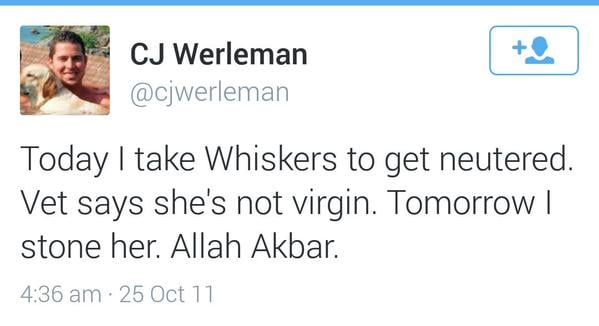 In other words, Werleman was still an anti-Islam bigot at least as late as October 2011 – just over 11 years ago and well after he supposedly read the book he has never mentioned before, and well after he first supposedly started studying Islam.
As I have posited before, I believe Werleman decided to "change his ways" – at least outwardly – when he saw he could make money from it. So he has had to invent a suitable backstory.
Unfortunately for him, he cannot keep track of his lies – and I am here to expose them.