Absurd Things to Blame on Israel #157: Restaurant Serving Non-Halal Food
A new palestinian Arab restaurant called Akub, owned by top palestinian Arab chef Fadi Kattan, recently opened in Notting Hill in the UK. And many Muslims are upset about it because it is not Halal.
Like this blogger:
and others on social media: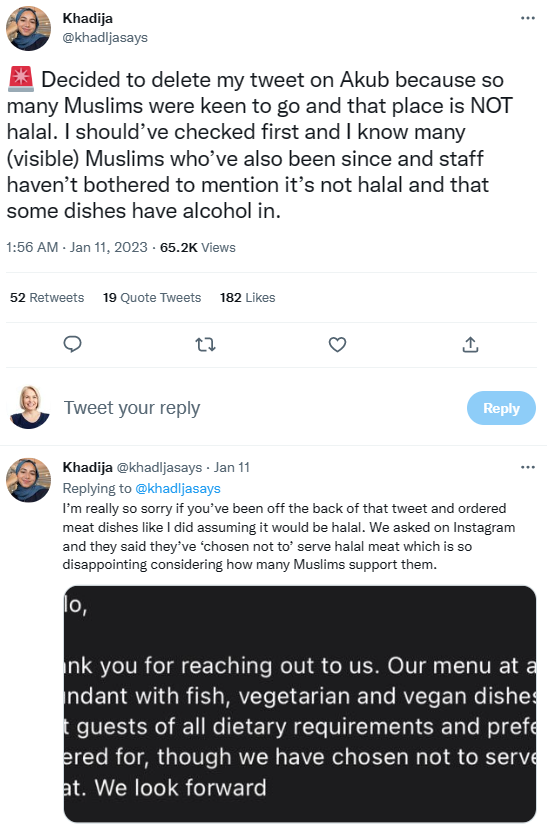 But for Israel-hating journalist Ahmed Shihab-Eldin, it is clear who is to blame for this backlash.
You cannot make this stuff up (although he just did).
And do not think it is just us who see the absurdity of blaming this on us.
By the way, Chef Kattan seems like a real hypocrite. On one hand:
"I don't have a problem with an Israeli chef cooking with labneh (a strained yoghurt), if they say if it's Palestinian or cooking kebab and saying it's from Aleppo… the problem happens when the history of the region is disregarded and foods are labelled as Israeli.
On the other, he calls Akub a palestinian restaurant yet
One of Kattan's main aims is to convey the diversity of Palestine, and to help people recognise how rich Palestinian culture and heritage is, from the Ottoman to Greek influences in cities, such as Haifa and Jaffa.