Polly Samson Suggests Connection Between Roger Waters and Convicted Pedophile Scott Ritter
Remember how Polly Samson, the wife of Pink Floyd's David Gilmour, tweeted to Roger Waters "Sadly, Roger Waters, you are antisemitic to your rotten core. Also a Putin apologist and a lying, thieving, hypocritical, tax-avoiding, lip-synching, misogynistic, sick-with-envy, megalomaniac"?
Good times. And they are now getting even better.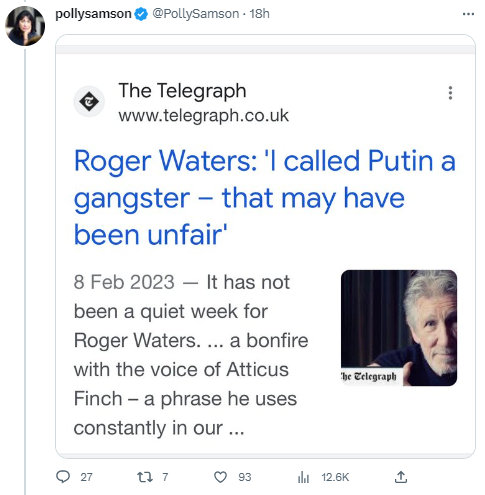 Polly seems to be suggesting that 'To Kill A Mockingbird's Atticus Finch might be a code used by Roger Waters and Scott Ritter, who encourage Putin to kill more Ukrainians as they were rabid dogs. She is also disturbed by the fact that Waters and convicted pedophile Scott Ritter stand for Putin in the ongoing Ukraine-Russia war.
What can I tell you? I am enjoying this.