How Mondoweiss Platformed Jew-Hater Khalid Amayreh Well After His Antisemitism Was Exposed
Meet Khalid Amayreh.
A veteran palestinian Arab journalist and current affairs political commentator who has written for anti-Israel sites like Al Jazeera, The Electronic Intifada, MEMO, Mondoweiss. Khalid has a pretty high opinion of himself, writing (about himself) on Quora "He has been described as one of the best English-speaking Arab journalists ever."
I am not sure anyone has ever said that about him.
Actually, some of you may have already "met" him. Back in 2014, I posted:
I should point out that Khalid Amayreh himself seems to be a poor excuse of a journalist. For instance, in this Press TV interview, he refers to Palestinian "resistance,"  which is exactly the type of "mixing with personal views" for which he eviscerates Ma'an. And there's plenty more extreme Israel hatred-moonlighting-as-journalism from where that came from. Heck, the fact he even appeared on a propaganda outfit like Press TV is enough to dismiss him as a journalist of any credibility.
What I didn't realize at the time was just how much of a vile Jew-hater he was.
For instance, this is from 2010:
Khaled Amayreh: The Israelis are trying to divert the attention of the world from the Nazi-like crimes committed by Israel in the Gaza Strip and the West Bank, by inventing an imaginary threat called Islamism. The people who are trying to take over the world, including superpowers… you know… are Zionism, not Muslims. Muslims are being persecuted all over the world. In Palestine, in Lebanon, and everywhere, Muslims are persecuted.


The only people who are taking over Europe and the United States – they do that by lying and by mendacity – are the Zionist Jews. I want to just say something about the land…


Interviewer: …promised by God [to the Jews].

Khaled Amayreh: Yes, yes, of course. [My colleague] is trying to legitimize land theft in the name of God, just like those colonizers in North America, who killed millions of Native Americans, and they called it "Manifest Destiny," and they celebrated genocide on a day called Thanksgiving. So this man is trying to justify land theft, ethnic cleansing, and genocide by attributing all of this to the Almighty.
and he reportedly wrote this on a comment thread in 2011:
At least you don't feel confident enought to admit your Jewishness.

Anyway, I don't give a damn whether you are a kike or not.
In 2013, he even claimed that we control Al Jazeera (his former employer)!
So clearly this man was a rabid Jew-hater.
And he still is.
Thanks to the Judean Notes blog, we see how Khalid is still up to his old tricks, mostly on Quora. For instance, he claims Jews murdered 6 million Germans:
and at the same time still compares us to the Nazis: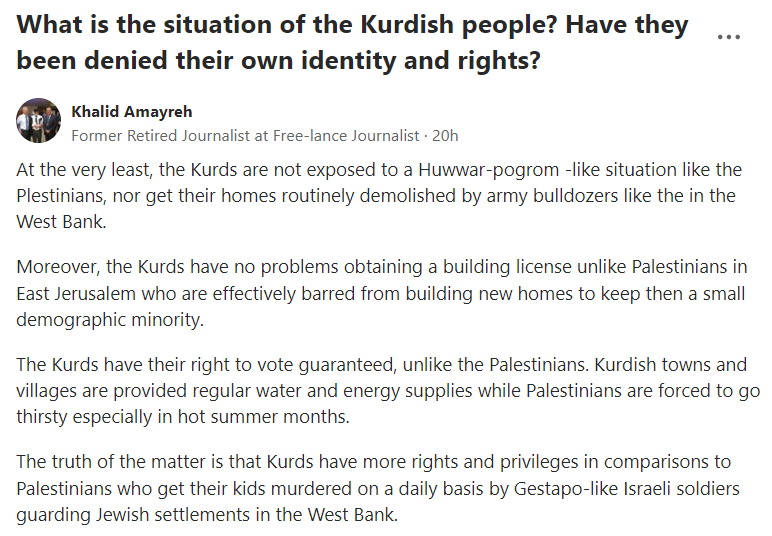 (antisemitic AND confused).
He also loves to mock Jewish belief:
and spread the antisemitic trope of Jews controlling governments, the banks and the media:

Note here how he simply writes "Jewish" domination, omitting the qualifier "Zionist" like he used back in 2010.
So here we have this "journalist" spreading Jew-hatred for well over a decade. And Mondoweiss – a favorite site of the "anti-Zionist-not-antisemite" crowd – published him twice just last year.
(the other websites listed above, with the exception of MEMO, have not published him in a very long time).
If one were to argue they just didn't know, isn't their job to do their due diligence? They do, after all, make all sorts of claims and allegations against Israel. How can they be trusted to report the truth when they platform Jew-haters like Khalid Amayreh, whether knowing who he is or not bothering to find out?